I have some lunch sets configured using order tags. One part of the lunch set is a drink sold at a discounted rate compared to the normal rate (e.g. Coke is 8.00 on lunch set compared to normal menu price of 15.00.
However my client has highlighted a problem he has, where sometimes a customer will forget to order a drink first time, then ask for it later once the order has been submitted.
Here is an example: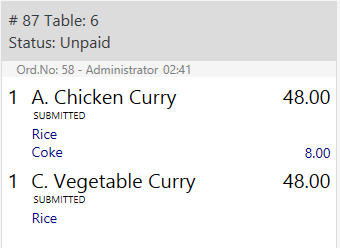 So let's say the customer has asked for a Coke to be added to Vegetable Curry. Because it's submitted, I can't click it and add a new order tag.
I've had a similar question from other clients in the past. So I've done a few things before:
My initial option was void then re-add, but this is very problematic especially if you have multiple order tags on the item and multiple items to change, or if you imagine it happens a few times during a busy lunch time (apparently it's quite common for customers to forget to order a drink!).
My next-best option was to add a new category that contained the lunch set extras (drinks, etc) that are at the discounted rate. This was the best outcome I could get and it does work, but wondered if there is a better way?
For option 2, in my own opinion, I felt also that adding the additional category for adding discounted rate drinks could potentially open to staff abuse (i.e. just adding drinks from that category for friends instead of the normal drinks category). In that case I thought is there a way to only allow items to be added from the discounted rate drinks category if a lunch set already exists on a ticket?
Any suggestions / better ways ?