the price will be different for each product
@Jesse im guessing its not possible then ?
You can create a Take-Away department clone your menu by right clicking the menu choosing clone. Setting the default menu under the Take-Away department to use the new menu. Specify order tags for each product that adds the extra price you want for each item. Go to the menu and click Edit Product Properties for each Menu Category and assign the order tags to each product. This would make it so any order taken under department Take-Away would have the extra price added automatically when the product is selected.
It is not as easy as copying a menu and changing prices. Prices are controlled through Products and Tags. So you will have to define new products or use tags to change prices and then link them into your new menu. As far as organizing it… I would think it would be easier to use tags to save the trouble of making new products/recipes etc for the Take-Away menu.
I could be totally wrong and there may be a function of SambaPOS that I have yet to learn and I am sure Emre or someone else will point that out. But from what I can tell these are your options to do what you want.
ok thanks, ive just given it a go.
under order tag i added 50p in the following format, 0.50
given it a go but nothing happens ?
Look here for information on how to use order tags. Once you understand how to create them you can manually add them by editing your Take away menu's Product Properties to force the order tag for each item.
I am directing you here because you will be less likely to make mistakes and use features again in the future if you understand the beginning concepts vs me just showing you a step by step tutorial.
@kendash ok appreciate your help!
thanks!
You could also possibly use Product Portions, and set a price for Normal (or Eat In), and another price for TakeOut.
The default portion is always the first listed, but when you clone your regular menu, you can edit the Items in the Take-out version, and flag the Take-out portion in the Item Properties.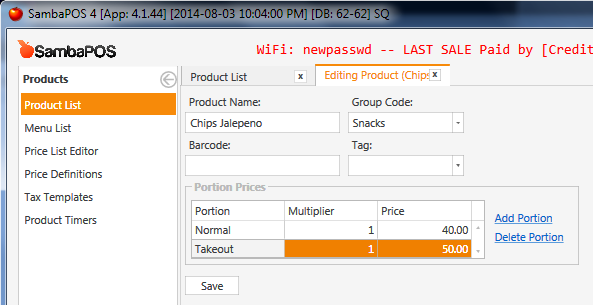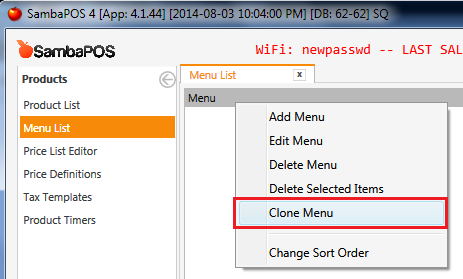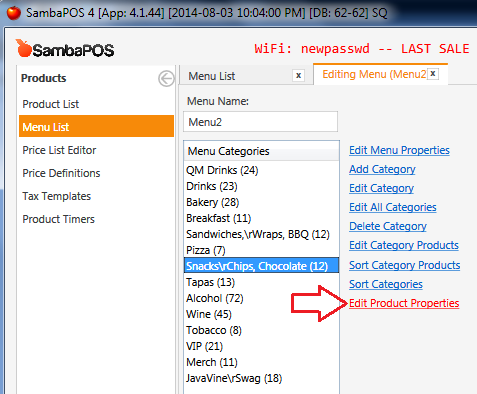 now thats what i was looking for!
@QMcKay thank you very much!
Awesome I didn't really think about Portions being used that way. Another great flexible feature that makes Samba so great!
@DenizAltun, I can't say that what I've mentioned is the best method of achieving what you want, but it is an option. There are many ways to do similar things in SambaPOS, so I'm just mentioning it as a possibility. You would still need to modify all 400 products to add the additional Portion, and then edit every Menu Item to choose that Portion by default. Tedious …
I'm wondering if it might be possible (and better) to use the Price Definition feature in SambaPOS. The key would be figuring out how to reliably switch between the different Definitions. I assume this would be Department and Ticket Type based switching… it's not something I've tried before.
While I use Price Definitions for Happy Hour pricing, I believe that they were originally implemented for nearly exactly the same reason you are looking for.

I am interested in how to use Price Definitions myself. I thought they would be useful but I have not even tried to experiment with them yet.
@DenizAltun, I think this will work better for you.
@Jesse, seems fairly simple!
Create a Price Definition using Price Tag "TO" for Takeout.
Create a Department for "Takeout", choose "Menu2" (the cloned menu) and Price Tag "TO":
Then edit the prices using the Price List Editor to set a price for the "TO" Price Tag. Much less tedious…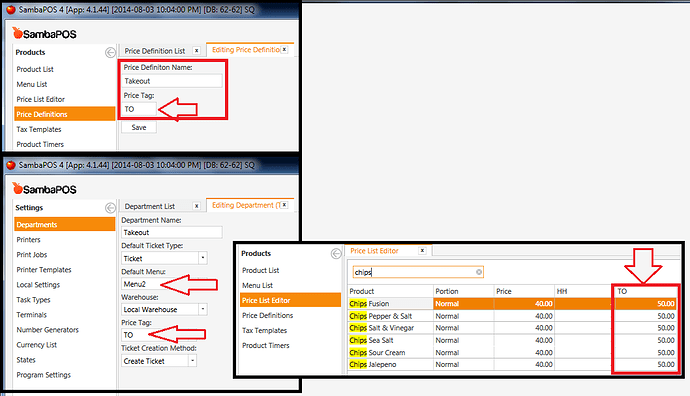 Wow yes that is very simple. Good to know.
@emreI tried with out clone and its works easy simple one menu two different prices …I tried all of the above this is the easy simple hope , but wondering is any difference made while count in inventory and reporting?
@gsreddy, using different Price Definitions (Price Tags) have no adverse effect on Inventory whatsoever, in the same way that Discounting or Gifting an Item would have no adverse effect on Inventory.
Sorry to bump and old post, but this is something I'm looking for…
Is there a way of making it go on the kitchen ticket to say that it is eat in or take away? It would be useful for the kitchen to know wether to put (in my case) the product in a glass or cup rather than a paper or plastic cup.
Regards
Matt
@emre I faced an error while using ticket tag I will explain how. Iam using ticket tag as Dine in ( Different price) and working fine and selected in department . Yesterday I created another ticket tag for Happy Hours and noticed that in Department its changed to HH, And all Dine in prices are charged normal price my question is Is any possible that use two ticket tags for one department. ( I want happy hour for Dine in only not for take aways ).
Also How to trigger Happy hour for only one hour or two hours I couldn't figure out as I set for 5pm I tried its keep going after 5 .
This is most and most Demanded feature of Take out and dine in Departments or start new order it asks which order egerly waiting for update . I cant go back to other pos as this is Awesome . Thanks
Hello. There is a long discussion about implementing a better HH and VIP discounts system. Also at the end of the topic @QMcKay posted his implementation.
This might not be exactly what you are asking for but I think this topic contains all required information regarding your need. I know it may seem a lot of steps for that setup but understanding such advanced settings will give you full power of implement your own custom system.
It might be a good idea to create a new topic that describes your need in every detail. It will help you to reach people who also needs or already implemented similar setup. Discussing it with other people will greatly simplify the process as you may find better ways to implement it. What @pipo and @QMcKay did on that topic was really amazing.
@emre Thanking you and I appreciate u r valuable reply .