Hello everyone,
I have a question about grouping products, let's say that I have the following ticket been printed: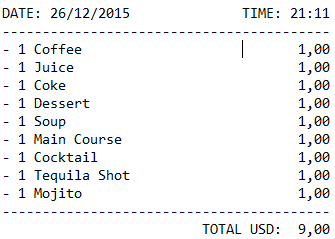 I would like this ticket to be short by grouping products as follow:
Notice that in this case I want Coffee (1$), Juice (1$) and Coke (1$) values added together as Beverages to show their added value (3$), the same for the restaurant and bar group products, then beverages, restaurant and bar groups are added together to show the grand total.
The problem is that the paper I will be printing the tickets is not too long so if I need to group the products to print them as one invoice in a short format.
I have read tutorial to group products as drinks, main courses, desserts, etc. But in my case I want to get their costs added to get a total amount price for each group and later the grand total. Can this be accomplished? Any help will be appreciated.