please help me about COST REPORT… i dont know how to use it…
Cost Report shows your cost per portion.
can you help me how to set up properly Cost Report sir?
Cost report is already set up there is nothing to do to it. You need to setup your inventory correctly for Cost report to be accurate. Have a look here:
work period report, items sales report, inventory report, inventory purchase report are Good… working properly… but the cost report… are not… idont know what is my mistake…
You probably setup inventory incorrectly or you have a wrong idea of how cost is being calculated. Cost is calculated per portion. Cost is not a direct relation on what you buy product at and what it sells for. It is based on portions.
Can you show some screenshots and give us an idea of what your seeing as wrong? We have no clue what your setup looks like or what your cost report is looking like.
new user can't upload image? hmmm… i want to reply a screenshots
all i want is to minus every time we will have sale's and we will have a cost report every end of the day… thanks for the information sir… GLAN Supplier is the source and Mang Jun is the Target warehouse… i thought it will minus when we got sale's at Mang jun… not to add to Glan Supplier…
It should do that, but something must be set incorrectly. Check Manage > Settings > Departments > Warehouse to ensure the items that you sell are being consumed from the proper Warehouse.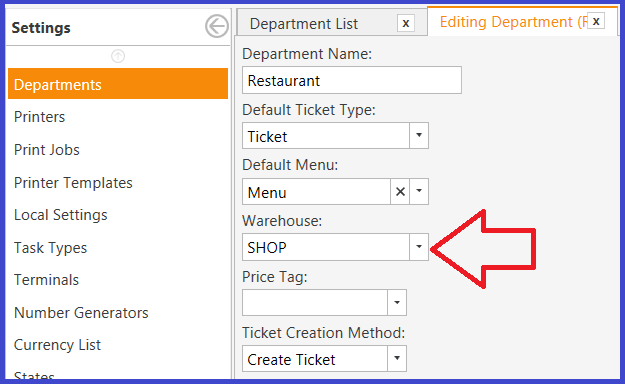 That said, when you have an (Purchase) Inventory Transaction, items will be shown as Consumption in the Source and Purchased in the Target.
When you sell an item, it will be shown as Consumption from the Warehouse that is defined in the Department.
Looking at your screenshots your shot of the inventory item is setup wrong. Your transaction Unit you have 30 and some kind of suffix. For transaction unit you do not put a number as this has nothing to do with that. You put the Unit you transact in. Example you serve Coffee at 50 grams per serving you buy it from your supplier in Kilo Grams in boxes of 1000g
Your Base unit would be: **g** your transaction unit would be: **Kg** Your multiplier would be 1000
An alternative is to leave Transaction Unit blank and setup alternative units. Example Box, Tray, Pallet Each would have their own multiplier.
still not working sir… any alternative idea? hoping that you're team still have patience to solve my problem… it will not minus everytime we will have sale's. thanks sir…
Show another example of it not minus please. I think you are reading it wrong.
Can you show your STOCKS warehouse before and after a sale?
Did you go to Settings > Department and set Mang Jun as your Warehouse for your department?
yes i did… i change it into Mang Jun sir
Ok so show your Mang Jun warehouse with inventory before a sale and then show it after a sale.
the same sir… i dont know what to do. sad
Ok now show your Inventory Item, and your Product, As well as recipe. Sorry for making you do this but you have configured something wrong and I am trying to help you work through it.
I see something odd already however. You purchased 5 at 3000,00? You sold 1 item at 3500.00?
This does not seem right. Also your product you sold is exact same as product you purchased. So you purchase premade product and sell it? Or do you purchase ingredients and make that product?
Its not sad we will figure out what you did wrong. It is easy to make a common mistake.
If we can see your Inventory Item, Product, and Recipe again that would be helpful.