i have already deleted the warehouses info in inventory, how do i remove the button from the main menu
You cant - at least in v4, in v5 you can completly customise the main menu/nav menu - but pretty sure you can limit access via user roles permissions.
Thankyou, its been a while since ive administered a sambapos epos, and here i am making one from scratch, could i ask you, how do i edit the mappings for the settle screen, ive honestly looked and researched everywhere, here is the page i want to change the keyboard mapping on, i want to remove or edit the 1/n for example… im so used to ICRtouch and there keyboard feature, anyway if you can help that would be great!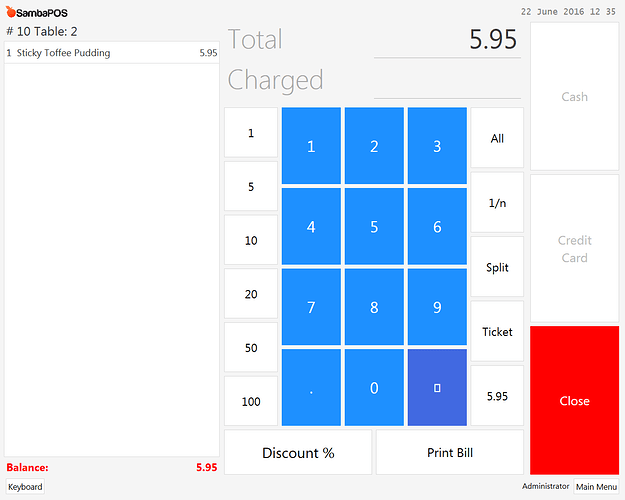 I have had quick look at ICR and you wont regret moving to SambaPOS, it has a relitivly steep initial lurning curve but once you get the basics it opens you up to so many posabilities.
As for your question.
Dont think you can, the buttons on right are payment selectors (Cash/Card)
The buttons on the bottom are automation commands with mapping set to payment screen.
The middle bit with keypad are hard coded.
Yes i look forward to using it full time, Samba is great, so is ICR but too many cons to it, hard coded? damn, i would love to explain to my customer what 1/n is

haha
Its split bill by x amount.
1/n - n is the number of people
1/4 = quater = 4 way split (1/4 of the total)
thank you for your help, i really appreciate it