A client of mine recently updated their menu and added another 2 categories to their menu list.
Updated prices and all was well. Till it recently started hanging and taking forever to get onto the POS menu screen.
I thought it may have something to do with information overload or something.
Then i made a back up of the current database and decided execute clear database transactions to start from scratch.
Over 1 year period the database reached 1.3gb!
when i executed that in SambaPOS it basically froze and crashed.
so i removed it manually from SQL management and that took a while but it still did it finally.
Went back into sambapos, and pressed POS and this is the message i get below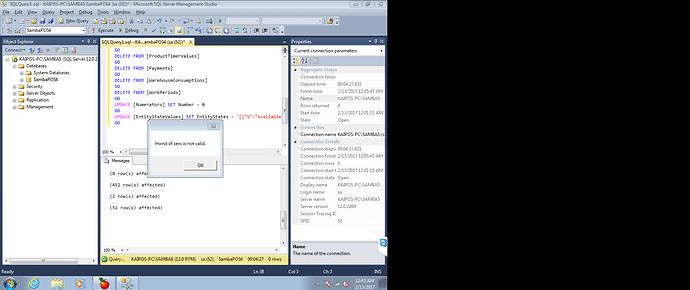 Restarted SambaPOS and went back to POS screen. Same issue.
Very strange! any ideas?
EDIT:
Log Below
[General Info]

Application: SambaPOS
Version:     5.1.61
Region:      en
DB:          SQ
Machine:     KAIPOS-PC
User:        KAIPOS
Date:        2/12/2017
Time:        4:45 PM

User Explanation:

KAIPOS said ""
-----------------------------

[Exception Info 1]

Top-level Exception
Type:        System.ComponentModel.Win32Exception
Message:     Invalid window handle
Source:      WindowsBase
Stack Trace: at MS.Win32.HwndWrapper.DestroyWindow(Object args)
   at MS.Win32.HwndWrapper.Dispose(Boolean disposing, Boolean isHwndBeingDestroyed)
   at MS.Win32.HwndWrapper.Dispose()
   at System.Windows.Interop.HwndSource.Dispose(Boolean disposing)
   at System.Windows.Interop.HwndSource.WeakEventDispatcherShutdown.OnShutdownFinished(Object sender, EventArgs e)
   at System.EventHandler.Invoke(Object sender, EventArgs e)
   at System.Windows.Threading.Dispatcher.ShutdownImplInSecurityContext(Object state)
   at System.Threading.ExecutionContext.RunInternal(ExecutionContext executionContext, ContextCallback callback, Object state, Boolean preserveSyncCtx)
   at System.Threading.ExecutionContext.Run(ExecutionContext executionContext, ContextCallback callback, Object state, Boolean preserveSyncCtx)
   at System.Threading.ExecutionContext.Run(ExecutionContext executionContext, ContextCallback callback, Object state)
   at System.Windows.Threading.Dispatcher.ShutdownImpl()
   at System.Windows.Threading.Dispatcher.PushFrameImpl(DispatcherFrame frame)
   at System.Windows.Threading.Dispatcher.PushFrame(DispatcherFrame frame)
   at System.Windows.Threading.Dispatcher.Run()
   at System.Windows.Application.RunDispatcher(Object ignore)
   at System.Windows.Application.RunInternal(Window window)
   at System.Windows.Application.Run(Window window)
   at Samba.Presentation.App.Main()

-----------------------------

[Assembly Info]

mscorlib, Version=4.0.0.0
PresentationFramework, Version=4.0.0.0
PresentationCore, Version=4.0.0.0
System, Version=4.0.0.0
WindowsBase, Version=4.0.0.0
Samba.Services, Version=1.0.0.0
System.ComponentModel.Composition, Version=4.0.0.0
System.Configuration, Version=4.0.0.0
System.Xaml, Version=4.0.0.0
Microsoft.Practices.Prism.MefExtensions, Version=4.0.0.0
Samba.Presentation.Services, Version=1.0.0.0
Samba.Presentation.Common, Version=1.0.0.0
Samba.Domain, Version=1.0.0.0
Microsoft.Practices.Prism, Version=4.0.0.0
System.Core, Version=4.0.0.0
Samba.Infrastructure, Version=1.0.0.0
DevExpress.Xpf.Core.v14.1, Version=14.1.13.0
Microsoft.Practices.ServiceLocation, Version=1.0.0.0
Samba.Localization, Version=1.0.0.0
Samba.Persistance, Version=1.0.0.0
FastButton, Version=1.0.0.0

-----------------------------

[System Info]

Operating System
-Microsoft Windows 7 Professional
--CodeSet = 1252
--CSDVersion = Service Pack 1
--CurrentTimeZone = 480
--FreePhysicalMemory = 1455556
--OSArchitecture = 32-bit
--OSLanguage = 1033
--ServicePackMajorVersion = 1
--ServicePackMinorVersion = 0
--Version = 6.1.7601

Machine
-KAIPOS-PC
--Manufacturer = To be filled by O.E.M.
--Model = To be filled by O.E.M.
--TotalPhysicalMemory = 3661590528
--UserName = KAIPOS-PC\KAIPOS

-----------------------------


######################### E N D #########################

UPDATE1 I thought it had something to do with insufficient memory so I manage to free some more memory from PC, restarted PC and went back to POS, it hanged for a bit, then it suddenly started working again… As if it wasn't cached and it started caching, went back and forth a few times and it was ok.
Went back to main menu, selected other things such as accounts, reports, tickets, work periods then press POS again, and it started to hang again… Checked Task manage and definitely still has enough memory to process so im stumped right now…