For this tutorial you need to install at least SambaPOS 5.1.62 version.
If you're interested to create tickets or fetch menus through your application this tutorial will help you to setup SambaPOS and prepare your GraphQL scripts.
GraphQL is the name of the HTTP based API you'll use to access SambaPOS and execute queries. By default SambaPOS does not allow executing GraphQL queries externally. You need to setup SambaPOS Message Server to allow that.
Message Server is the name of server application that runs on server machine to notify SambaPOS terminals when new tickets are created. It works on two modes.
Notification Only. This is default mode. It only notifies terminals to refresh terminal screens when another terminal creates or updates a ticket.
API access. Besides notifying terminals it allows executing GraphQL queries. This mode also allows terminals other than SambaPOS terminals to subscribe to "new ticket creation" notifications.
To enable API Access you need to:
Setup Server Application to enable API access.
Setup SambaPOS application itself to subscribe to notifications.
Setup Authorization to allow third party service to access GraphQL API.
Server Setup
On server start Samba.MessagingServerServiceTool.exe application to bring up service setup helper tool.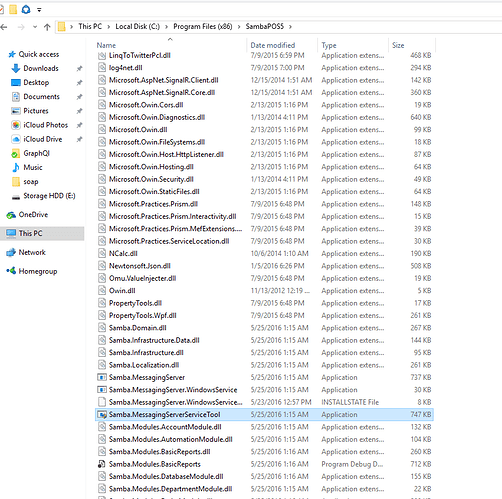 After setting up desired port add "+" sign at the end of port number and click Update Port button. Having + char at the end of the Port Enables API mode.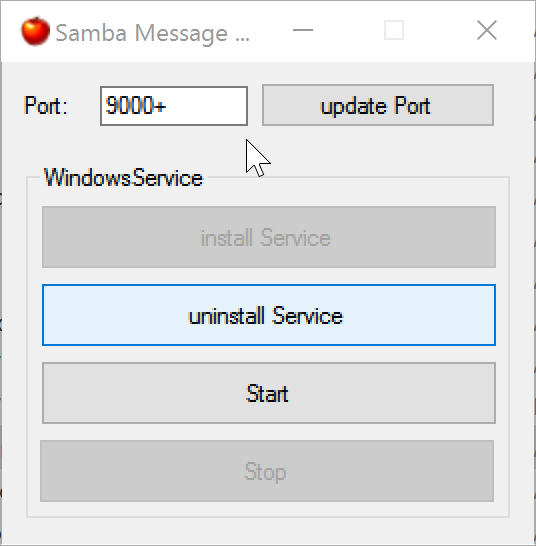 When you click on Update Port button it should start the service automatically. If it does not click "Start" button to start service.
SambaPOS Setup
To subscribe SambaPOS to notifications you'll make a simple change on local settings page.
Start SambaPOS on a terminal.
On Management > Local Settings > Message Server screen, type the name of the server, port and enable Auto Start Message Client option.
Restart SambaPOS.
You need to do that for all terminals.
Follow these to ensure your setup is correct.
The screen shot shows server name as localhost. Instead of localhost you need to type server name or server IP address. For example if your server name is MyServer you need to type http://MyServer as server name.
While typing server name you need to add "http://" in front of it.
Don't add + sign at the end of port.
Be sure your firewalls allows communication through these ports. When firewall prompts allow communication or configure Windows Firewall to open these ports. If you already running message server on Notification Mode no additional setup is needed.
Remote Access
For now server allows running queries only on server. If you need to allow access from other devices you need to run Message Server service as a user that have Administrator privileges.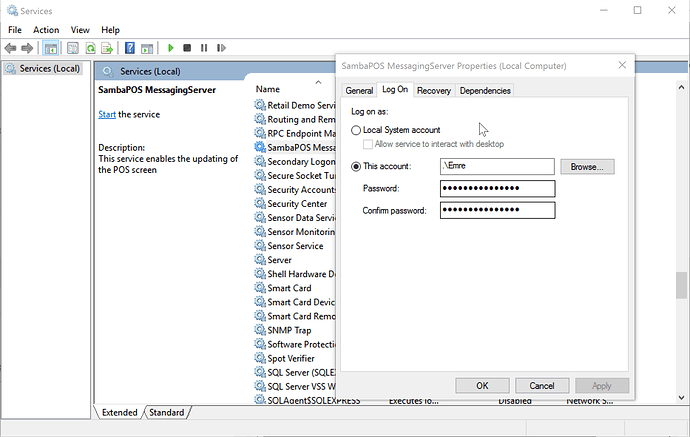 Please ensure firewall properly configured to allow communication through ports and also service application allowed through firewall. If it works through localhost address but you receive no response when you attempt to connect remotely this is probably a firewall configuration issue.
Server Database Access
Message server uses connection string taken from the LocalSettings.txt file. So you need to run SambaPOS on Server PC, setup database and restart server to update database connection settings. Please keep in mind if you're using SQL Server LocalDB as the database engine you need to start Message Server Service as the user that actually logged on the PC. LocalDB stores database files under User's My Documents folder and if you start service with a different user it will access to a different database. If you're using SQL Express and can connect to database from this PC no additional configuration is needed.
On next part we'll setup Authorization.