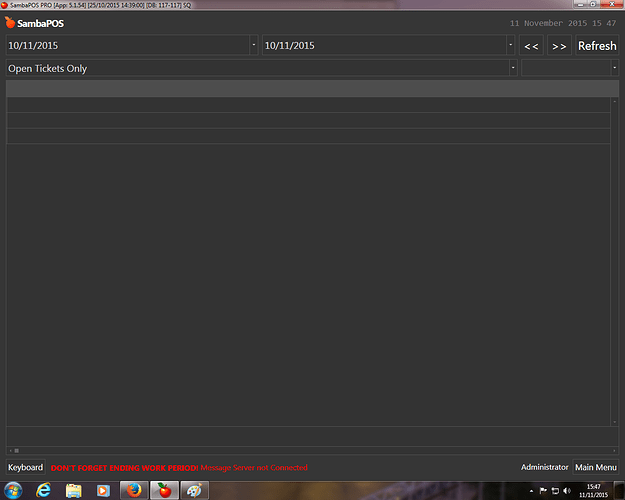 Not working like thisnormal ticket explorer
The Ticket Screen (Ticket Explorer) has no Columns - you must have removed them, or your layout file is corrupt. Delete or rename the file here to restore the default column headers:
C:\Users\Quentin\Documents\SambaPOS5\Layout\TicketExplorer.xml
In layouts I only have "tiles_en" no "TicketExplorer.xml"
So something is wrong here.
Re-install. Run the setup as Administrator.
Okay I`m being super cautious here. Do I do a uninstall first or just install on top?
Sorry for extra questions took me ages to get to this stage cant be back at square one lol.
You will not lose any settings. Just re-install. Your settings will remain intact since they are stored in the DB. Just be sure to uncheck SQL Local DB option in the setup dialog.
okay thanks trying it now
Ok reinstalled and now the layout folder is empty
You're probably looking to a wrong folder. Can you post a screen shot of your layouts folder?
OK. saw it.
See [MyDocuments]\SambaPOS5\Layout folder.
Okay the file only shows with the program closed, so if your running samba in the background that file is missing, as soon as you close samba pos it appears. I deleted it and now my ticket explorer is exploring as it should. Thanks
The file is present even when SambaPOS is running.
When you logout and quit, it saves changes to Layout files.
So in your case, after you re-installed, there was no file for the first run. Logout/quit caused the file to be created/updated.
No, when Sambapos is in use the file is missing, as soon as you close the program the file appears. Now Sambapos is working the file is missing again. Very strange way as what you describe is the norm.
With Sambapos working
with Sambapos not working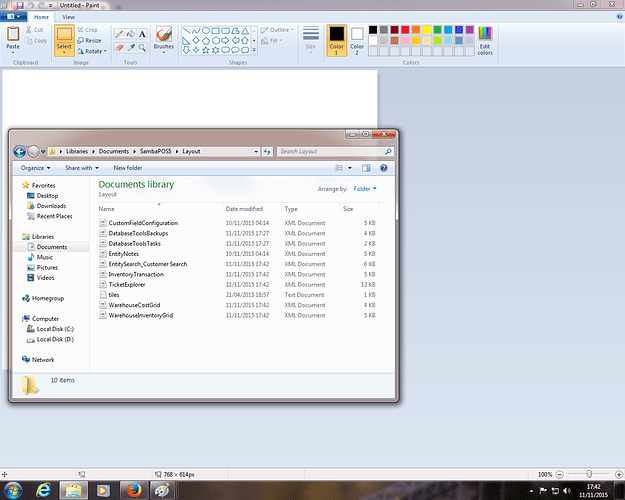 Thought I would explain what I learnt so it might help someone else with this problem.
Not on mine lol somehow they seem to hide.
Okay I have a bug somewhere.
After I close sambapos I can delete my TicketExplorer file, than when I start Sambapos the tickets show on Sambapos. Once I log out and close Sambapos and restart it than the ticket explorer fails to work again. So I have to delete that file again.