Continuing the discussion from Navigate Action to "inside" Customer Account:
[quote="pauln, post:1, topic:8883, full:true"]
I am looking for a simple method to navigate directly to "a" Customer Account. [/quote]
So I have the simple use of Navigation and Automation working well but I cannot get back from the Account Screen if Close is Used. The thing is you cannot chain navigation events as you always wind up on the last Navigate Request.
This is what is happening:
So above I have a custom Entity Search Screen with 2 new Automation Buttons which calls the Account shown in the Caption. If I use the Account Screen CLOSE we head back to SambaPOS Main Menu.
Can I confirm with anybody that the CLOSE is hardcoded and cannot be altered. I think this must be the case as if I use the SELECT ENTITY BUTTON from Ticket for that Entity Account - CLOSE will return back to FIND and then back to TICKET with Open Ticket in Tact.
This works fine but not desired.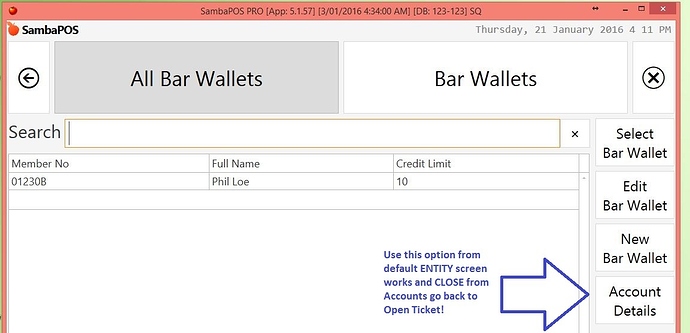 If you are wondering I am trying to get rid of these 2 buttons as I may have 2-5 Attached Entity Accounts.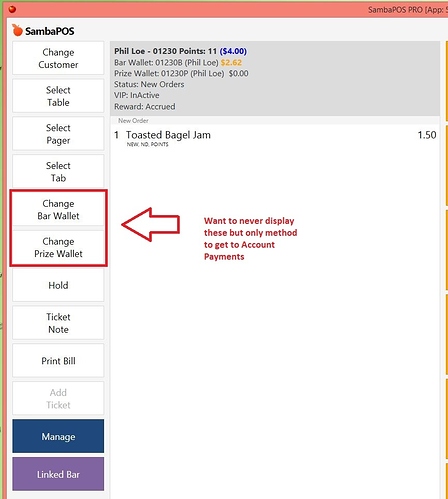 It will be Button Mania! which I am trying to avoid. Also Note I have place an Automaton button which would be the same as Automation from a Question (which Account do you wish bla bla bla) and this also RETURNS TO MAIN MENU.
@emre or anybody confirmation please.