I have a client who has asked if we can have order tag buttons on the menu alongside product buttons. They say with their current system, it makes adding modifiers to items like coffee much faster and they are concerned with doing the "normal way" in SambaPOS will slow them down at busy times.
This is a screenshot of their existing system, you can see yellow is products and blue buttons are modifiers.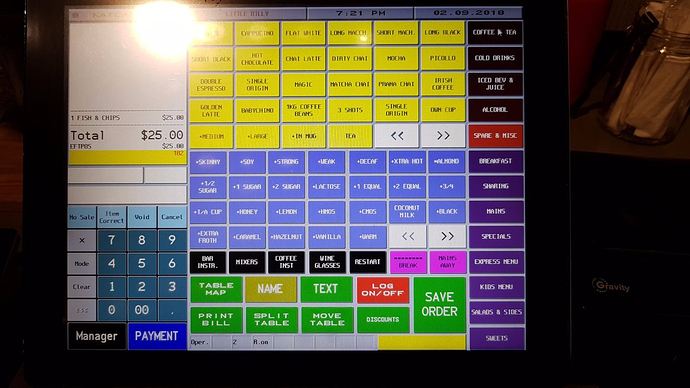 I know this could be implemented with a lot of custom work but I foresee a lot of issues for which I originally told the client it was not possible, but after seeing @emre post about an unrelated issue but saw he had implemented this in a way, which was intriguing that there might be a way to do this as I'm guessing the fact Emre has this must be because someone has requested this too.
I thought it would be good to post this here and share what issues I see, and see if there is any way this could be implemented easier. This is I think about the third time I have been asked this, as some other systems do offer this functionality which is very convenient for fast paced environments like coffee shops.
So the way it works is you first press the product button then every modifier (blue) button you press after it will add that modifier to the product.
In SambaPOS, I would imagine having custom buttons for the order tags, which then use Tag Order action to add the order tag to the selected product. But also, this would be a pain to setup then also making changes later on is not straightforward for the client.
Here are the issues I would foresee:
You would need to "select" the product after it is added to the order, in order for the order tags to be affected to it. This could cause some issues, specifically with other issues I will detail below.

If you use Portions (which this client does, on the coffee products for cup size), when you select the product, it will show the screen with the portions / order tags. Is there a way this can be disabled?

Normally we would of course be mapping order tags to the products. But if you do this, then when you select the product, the order tags will show on screen. Is there a way we can disable this to happen on specific products?

Product would need to remain selected until you add a new product to the ticket, otherwise you couldn't add multiple order tags to the product.

If you want to edit a previous order, you have to make sure you deselect the currently selected order first then select the order you want to edit. By default, if you select another order when one is selected already, it would multiple select both of them. Is there any way to disable multi selection behaviour?
As an example, this is how we currently have order tags and portions on a coffee product: