Hello
I have a problem when printing the inventory report.
Due to the large number of items within the recipes, is complicated counting products in stock, because when the report is printed all of the inventory items appears together and not separated by groups. For example
This is what the report shows:
Inventory Report.
Local Warehouse.
Meat 10KG
jabali 10KG
pork 10KG
10units eggs
Salmon 10GK
milk 10LT
bacon 10KG
I need to show:
Inventory Report
Meat Warehouse
Meat 10KG
jabali 10KG
pork 10KG
bacon 10KG
Fish Warehouse
Salmon 10GK
Other Warehouse
milk 10LT
10units eggs
Currently I have all my warehouses separated, but unfortunately the system only let me choose one type of warehouse, so I do not know if the system can deliver the information as I need.
How the report shows the information:

How I want to show it: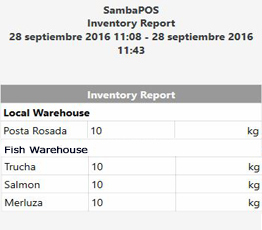 Regards!