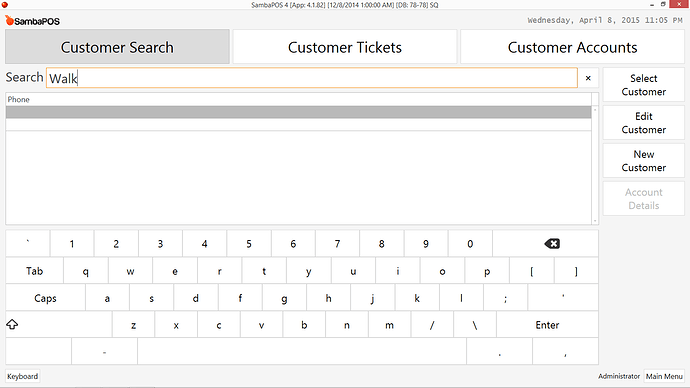 I've attached a screenshot so that you can see the build version I am using. I've been running for 3 months without a problem until now. Was working, shut down, restarted (different day), now not working.
I'm not sure if the issue is clear or not. When I type "Walk" in the customer search, I usually expect two results to populate the window ("Walk-in Customer" and "Walk-in 2"). …but now I see two blank lines.
If I select the top one, the ticket is opened and I see "Walk-in Customer" at the top.
As far as I can tell, the only thing affected is this result list.
I've restarted SambaPOS [maybe] 6 times and restarted the entire computer twice. There doesn't appear to be any Windows (8.1) updates waiting to be installed or part-installed. I am familiar with many troubleshooting techniques, but I don't see what could be the problem here.
Best guess is that it may be a problem character in the data such as an apostrophe or something that is breaking the select code. I'm not sure how I can diagnose that though.
Anyone have any ideas?
Many thanks,
James