how can I restore database from SAMBAV5 in V4?
You cant go backwards like that.
so… what can I do export like excel format or …?
Sorry, but nobody is going to go through the process of figuring out how to export data from V5 so that it can be imported into V4. The DB structures are not compatible. You can upgrade from V4 to V5, but you cannot downgrade.
Of course it could be done with enough time and know-how, but there is simply no point in doing this and it is a waste of time.
Ok Thanks. I try to use the link you show me to export product to YAML but can't understand how is the procedure sorry .
In V5 there is a section in Management:
Reports > Data Exports
Create a New Data Export and paste the Template code from the other thread.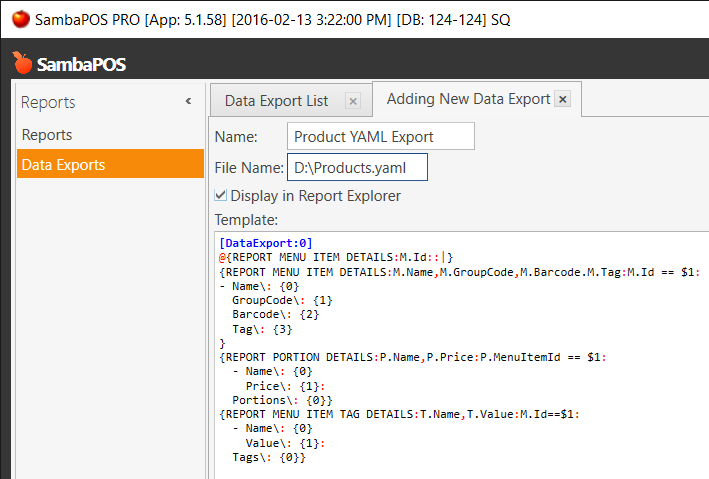 Then go to Main Menu > Reports and you will see at the bottom of the left side Data Exports. Click there and it will list any Export Templates you defined on the Right, as links. Click on a link and it will produce a file in the path that you defined in the Export Template.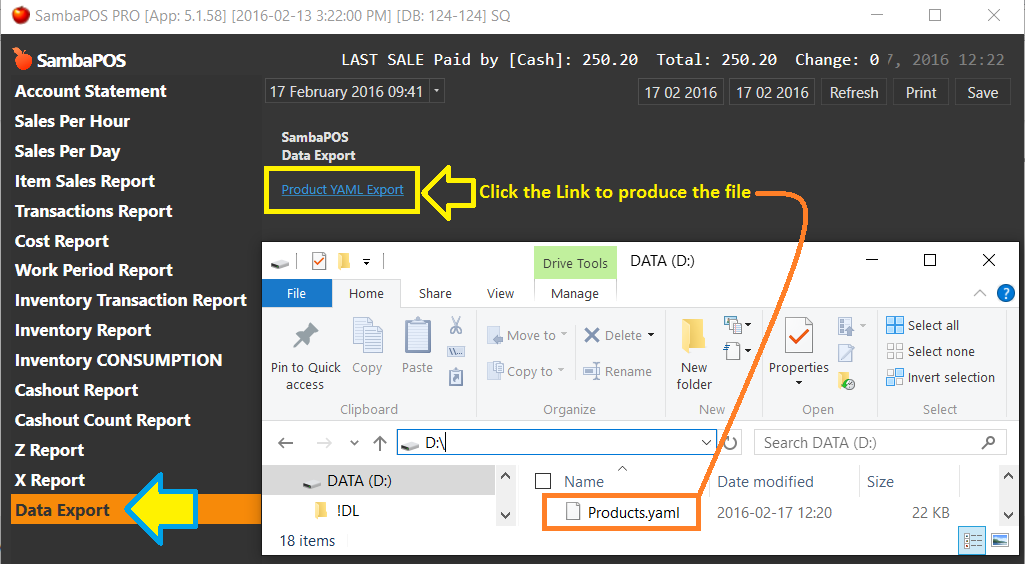 Even if you succeed in creating YAML export from V5, you will not be able to import it into V4, because V4 does not support YAML.
Thanks very much for your clear explanation and support
The export woes successful but the bar code is empty
- Name: CLASSIC POUR HOMME BLUE  GroupCode: Imported  Barcode:   Tag: 
Portions: - Name: Normal    Price: 4.99
Tags: 
- Name: TRUE LOVE  GroupCode: Imported  Barcode:   Tag: 
Portions: - Name: Normal    Price: 4.99
Tags: 
- Name: BE MINE  GroupCode: Imported  Barcode:   Tag: 
Portions: - Name: Normal    Price: 4.99
Tags: 
- Name: CLASSIC POUR HOMME  GroupCode: Imported  Barcode:   Tag: 
Portions: - Name: Normal    Price: 4.99
Tags: 
- Name: LADY IN RED  GroupCode: Imported  Barcode:   Tag: 
Portions: - Name: Normal    Price: 4.99
Tags: 
- Name: CRAZY LADY  GroupCode: Imported  Barcode:   Tag: 
Portions: - Name: Normal    Price: 4.99
Tags: 
- Name: VINTAGE POUR HOMME  GroupCode: Imported  Barcode:   Tag: 
Portions: - Name: Normal    Price: 4.99