Hi everyone!
So I am trying to use winSCard API from Windows to utilize NFC reader/writer to improve on a RFID card feature that needs much needed improvement.
A = SambaPOS
B = SmartCard application written in C++
C = Reader/Writer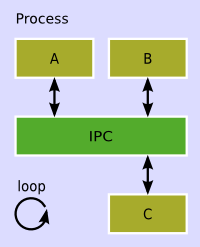 1. Is there a built in way in SambaPOS do IPC with other applications?
I know its possible to pass on the parameter I want SmartCard app to write on to the card using Start Process action and using command line parameter. (but its kind of a dirt hack lol)
However, even if I did, there is no way to to communicate what the process B has done back to SambaPOS.
2. Is there a way I can use built in JScript to open socket (using .NET framework or some other libraries) and communicate to another process?
3. Does SQL have a message passing ability that I can use to pass the messages from process B to back to SambaPOS?
Without actually storing it in the database table.
Has anyone worked with something like this in the past? I am not going to lie, allocating buffers, byte sizes and stuff is a bit beyond me so all ideas are welcome.
P.S. I completely want to avoid building a Web App and using REST API to do something like this as its an overkill to build just for this.