Hi,
Was hoping someone could help me with the following issue.
My workflow:
Customer orders -> Employee MUST mark ticket tag as delivery or eat in -> Order placed on "Hold" -> Food ready -> Ticket brought up -> Cash tendered -> Receipt prints
(If the employee doesn't mark the ticket, then it won't let him close or settle the ticket.)
I have implemented a button using ticket tags with force selection to mark the ticket as "Delivery" or "Eat In". It won't let me hold the ticket until it is tagged, which is what I wanted.
The only problem is that if the employee forgets to mark it, it still lets them settle the ticket, tender cash and a receipt is printed - only after this does it come up with a pop up box saying "Must select delivery / eat in". The receipt doesn't have the ticket tag on either. Ideally this pop up box should come when the employee hits "settle"
Any ideas of how to force a ticket tag before pressing "Settle"?
Ticket marked as delivery.

Ticket settled and receipt prints out showing ticket tag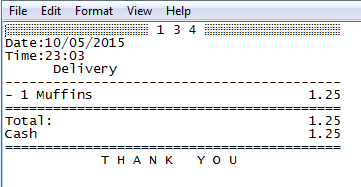 However, if the employee "forgets" the force ticket tag, they are able to click the settle button.

Receipt therefore won't show tag.

Thanks.