Okay so. We now have 2 stations running Samba V5 now activated. They are using their own databases though… Trying a Server/Client thing and SQL was just too much for me. I've lost count of the beers it made me open. Good thing I'm at a bar. Lol! Sierra Nevada please!!!
Anyways… here's our current setup. Main station at bar. Receipt printers and kitchen printers both directly plugged into the bar station. Our second station is in the office and I'll explain why in a minute… samba on the 2nd station in the office uses the printers connected to the bar station via network. Make since? Okay well here comes the complicated part. Station 2 in the office is not a pis system… it's just a laptop computer. We have a cheap Windows 8 tablet that only has 1gb ram and it's too slow to handle Samba. So instead we set up a remote desktop so that our waitresses can use the tablet to take orders at the table. So basically the tablets are remotely controlling station 2 in the office. Not so complicated after all but here's the REALLY complocated part… when using the laptop I can print tickets with samba. When using the tablet no tickets print. Upon investigation I found that when the tablet was connected to the laptop using remote desktop it caused the printers to become unavailable. However when I paired the tablet with the bar station tickets were able to print from command of the tablet. Make since so far? My guess is the issue with it not printing from the tablet when paired with station 2 is because they are wireless. Because it works fine with the bar station because the printers are hardwired. Any solution? I was thinking of trying several different remote programs such as log me in seeing that my idea didn't go too well when using the remote connection that is built into windows. To answer the question, yes I'm a technician but even the smartest get stunted sometimes. So I'm just wondering if anyone can toss any ideas on a fix or a better way to do this. Or just give me a good idea on different remote programs to try.
Edit- FYI I did uninstall the drivers for the printers from the tablet. Printers still unavailable with or without drivers installed on the actual
Windows 8 tablet
Picture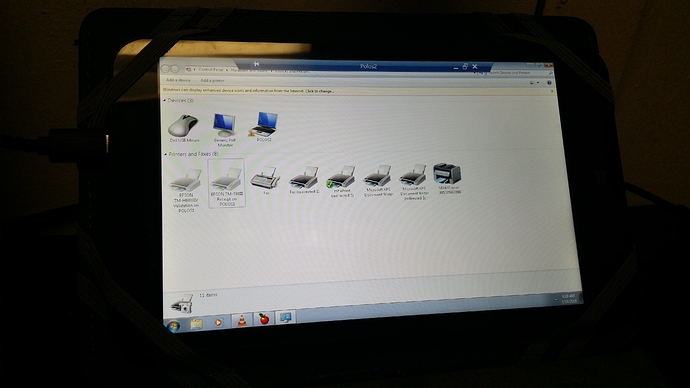 This is what I see when remotely controlling station 2 from the tablet.