my cash drawer command is printing a blank receipt.
and cash drawer will not open.
Show your template to open cash drawer
< XCT > 27,7,10,50,7
Draw kick code
Did it used to work? Have you changed anything?
On the Execute Print Job Action for opening your cash drawer, make sure you have set Print Ticket to False. Doing this allows the command to be sent to the printer without actually printing anything.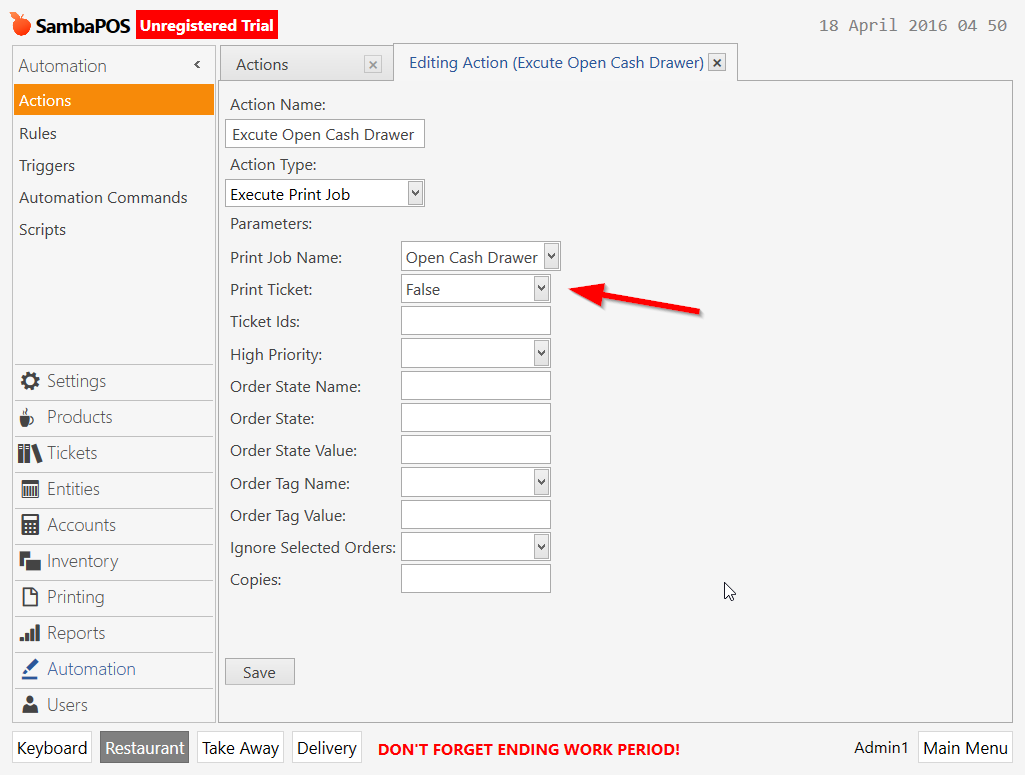 I have never used that, every printer I've used just didn't print if only XCT code.
Have you changed printer type to HTML or something other than escpos?
That is a valid point… in my setup I have a separate printer in SambaPOS for cash drawer. It is set to the ticket printer and ESC/POS mode. That means I can have the default Ticket Printer in HTML format if I want and it won't affect the cash drawer command.
printer is set as html printer, could that be why
i will try now
Ok! i dont a mistake of not setting up a new printer for drawer.
i was trying to use normal ticket printer which was setup as html.
thanks guys!
Can you help me Drawer open issue, when click settle / Close button Drawer Opening - why my drawer Open?
Thank you
I fixed , I forget enter in rule Add Custom Constraint. I solve…
i am having this problem again, i bought a new till and everything is set up except for the cash drawer.
it prints out a blank receipt went cash drawer is opened.
i tried all the steps previously mentioned but no luck.
any ideaS?
In your print action to open the drawer set print to false
Tried that. Unfortunately No luck
When you change an Action Parameter for an Action that is already part of a Rule, you need to remove the Action from the Rule. Save the Rule. Add the Action back into the Rule. Save the Rule.