Hello Everybody
M having a problem with clearing database transactions its giving me this error: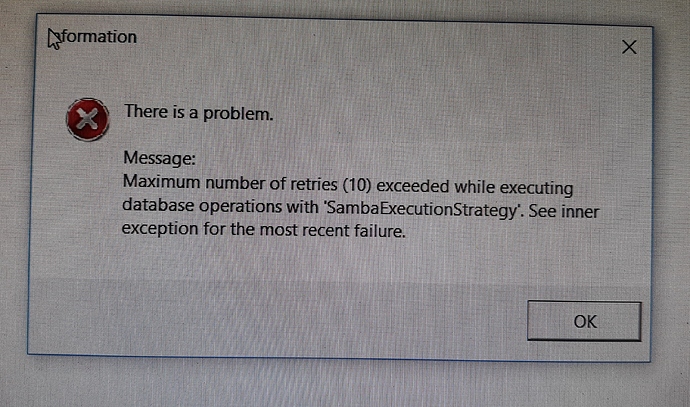 Any help would be appreciated…
Please post your error log. any more detail that you can provide would be helpful.
When m using this tool thats the only error coming no log nothing…
The log file is here:
[Documents]\SambaPOS5\log.txt

Please copy and paste the text content of the log file here instead of screenshots.
From what I can strain to read in those screenshots it appears your SQL server is not responding, is down, or not started.
@Jesse
No the server is working normally and this is the sever where m working but when i press execute task samba get freeze and after that this error shows up. If i press ok samba working normally.
This database i copied from a grocery where it have thousands of transactions saved in it. If i go into transaction in accounts i found 244600 transactions.
May be this error happening because it have too much transactions and if you see log file it says timeout.
I am sorry but there is no internet connection where this server is. Site is under construction.
Could be… is it the exact same database… same version sambapos?
Yup everything same but i want to point out one thing here last month i updated this database from 5.1.60 to latest one.
So what version is the backup made on? PS you have not copy and pasted the error yet… please do that first.
No its backup from the latest version but it was actually v5.1.60 when i created this databse but recently i upgraded it to the latest version.
I will paste it in a while because m outside.
I have had issues with clear DB script on the hotel setup when duplicating config for new properties, don't think it was same error message but definitely had an issue at least once.
From memory I think samba froze up on me if I didn't leave it along untill script had run. If I clicked anywhere it froze up and failed to clear.
Hotel is up to almost 200k tickets with several hundred MB database (backup size)
Possibly.
Try running the script from SSMS.