Hello,
I'm trying to have SambaPOS to backup automatically to my NAS which is in the same network as the Database Server PC.
I'm getting the same error as in "[RESOLVED] Restore backup - access denied":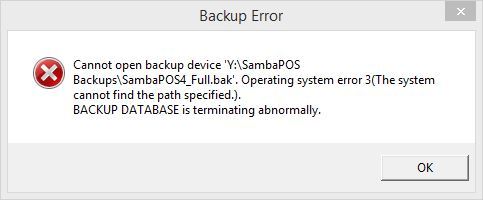 This Error actually appears whenever i try to have the backup file anywhere but to an usb key.
By now i have followed some suggestion in other post:
Tried to map the network drive as suggested here: problems-with-the-network, the error didn't disappear
and i tried to change the permission like here DATABASE backup problem, and it did work only locally "C:\SambaPOS Backup"
then
I found @QMcKay's DB Backup button here:
General System Build questions
it seems a good walkaround the issue, i kinda understand how to set it up in SambaPOS and i also tried to write/modify a BAT file but the problem is that i don't really know how to code properly a BAT file. If is possible can somebody give me an hint on the BAT file?
Also the NAS may be moved in another location. Usally i use a DDNS service to keep track of my IP when i have to reach my NAS using FTP.
.
would be possible to implement it as well directly in the BAT file or is better to map the network resource first?
i hope i explain everything clearly,
Kind regards
Claudio