Report error
goog afternoon guys…
I'm newbe useing sambapos, actualy I used sambapos v2 and now I got the problem with it.
the problem from report. example, when I want to see past month Item Sales report or past week come error like in the picture.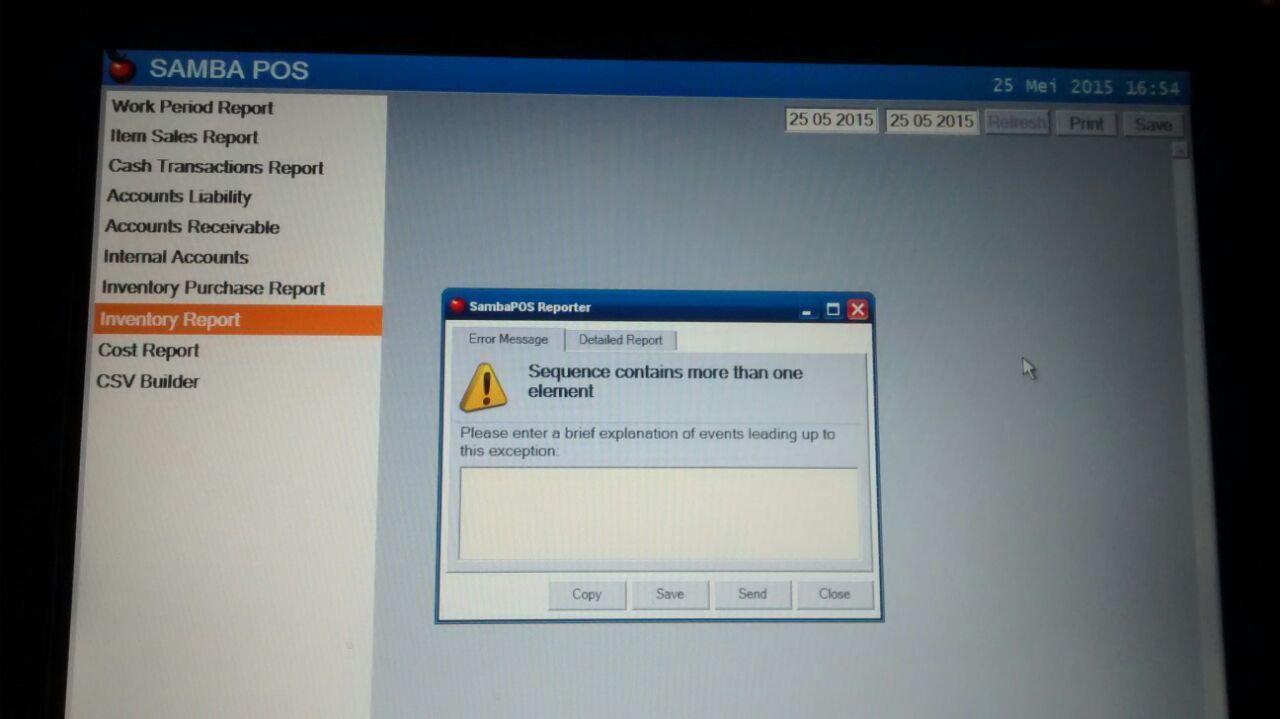 but the error not always happened, it come sometimes but mostly every weekend and I feel distrubed with it.
I try it in another POS PC, PC Desktop and Notebook but it's same error like that.
Please help me…
this is detai report

[General Info]
Application: SambaPOS
Version: 2.99
Region: id
DB: SQ
Machine: CASHIER1
User: Administrator
Date: 01/06/2015
Time: 7:24
User Explanation:
Administrator said ""
[Exception Info 1]
Top-level Exception
Type: System.Data.EntityCommandExecutionException
Message: An error occurred while executing the command definition. See the inner exception for details.
Source: System.Data.Entity
Stack Trace: at System.Data.EntityClient.EntityCommandDefinition.ExecuteStoreCommands(EntityCommand entityCommand, CommandBehavior behavior)
at System.Data.Objects.Internal.ObjectQueryExecutionPlan.Execute[TResultType](ObjectContext context, ObjectParameterCollection parameterValues)
at System.Data.Objects.ObjectQuery1.GetResults(Nullable1 forMergeOption)
at System.Data.Objects.ObjectQuery1.System.Collections.Generic.IEnumerable<T>.GetEnumerator() at System.Collections.Generic.List1…ctor(IEnumerable1 collection) at System.Linq.Enumerable.ToList[TSource](IEnumerable1 source)
at Samba.Persistance.Data.Dao.Query[T](Expression1 predictate, Expression1[] includes)
at Samba.Modules.BasicReports.ReportContext.GetTickets(IWorkspace workspace) in C:\Projeler\SambaPOS2\Samba.Modules.BasicReports\ReportContext.cs:line 153
at Samba.Modules.BasicReports.ReportContext.get_Tickets() in C:\Projeler\SambaPOS2\Samba.Modules.BasicReports\ReportContext.cs:line 34
at Samba.Modules.BasicReports.Reports.ProductReport.ProductReportViewModel.GetReport() in C:\Projeler\SambaPOS2\Samba.Modules.BasicReports\Reports\ProductReport\ProductReportViewModel.cs:line 14
at Samba.Modules.BasicReports.ReportViewModelBase.<>c__DisplayClass9.b__2(Object , DoWorkEventArgs ) in C:\Projeler\SambaPOS2\Samba.Modules.BasicReports\ReportViewModelBase.cs:line 179
at System.ComponentModel.BackgroundWorker.OnDoWork(DoWorkEventArgs e)
at System.ComponentModel.BackgroundWorker.WorkerThreadStart(Object argument)
Inner Exception 1
Type: System.Data.SqlClient.SqlException
Message: Timeout expired. The timeout period elapsed prior to completion of the operation or the server is not responding.
Source: .Net SqlClient Data Provider
Stack Trace: at System.Data.SqlClient.SqlConnection.OnError(SqlException exception, Boolean breakConnection)
at System.Data.SqlClient.SqlInternalConnection.OnError(SqlException exception, Boolean breakConnection)
at System.Data.SqlClient.TdsParser.ThrowExceptionAndWarning()
at System.Data.SqlClient.TdsParser.Run(RunBehavior runBehavior, SqlCommand cmdHandler, SqlDataReader dataStream, BulkCopySimpleResultSet bulkCopyHandler, TdsParserStateObject stateObj)
at System.Data.SqlClient.SqlDataReader.SetMetaData(_SqlMetaDataSet metaData, Boolean moreInfo)
at System.Data.SqlClient.TdsParser.Run(RunBehavior runBehavior, SqlCommand cmdHandler, SqlDataReader dataStream, BulkCopySimpleResultSet bulkCopyHandler, TdsParserStateObject stateObj)
at System.Data.SqlClient.SqlDataReader.ConsumeMetaData()
at System.Data.SqlClient.SqlDataReader.get_MetaData()
at System.Data.SqlClient.SqlCommand.FinishExecuteReader(SqlDataReader ds, RunBehavior runBehavior, String resetOptionsString)
at System.Data.SqlClient.SqlCommand.RunExecuteReaderTds(CommandBehavior cmdBehavior, RunBehavior runBehavior, Boolean returnStream, Boolean async)
at System.Data.SqlClient.SqlCommand.RunExecuteReader(CommandBehavior cmdBehavior, RunBehavior runBehavior, Boolean returnStream, String method, DbAsyncResult result)
at System.Data.SqlClient.SqlCommand.RunExecuteReader(CommandBehavior cmdBehavior, RunBehavior runBehavior, Boolean returnStream, String method)
at System.Data.SqlClient.SqlCommand.ExecuteReader(CommandBehavior behavior, String method)
at System.Data.SqlClient.SqlCommand.ExecuteDbDataReader(CommandBehavior behavior)
at System.Data.Common.DbCommand.ExecuteReader(CommandBehavior behavior)
at System.Data.EntityClient.EntityCommandDefinition.ExecuteStoreCommands(EntityCommand entityCommand, CommandBehavior behavior)
---
[Assembly Info]
mscorlib, Version=4.0.0.0
PresentationFramework, Version=4.0.0.0
System.Xaml, Version=4.0.0.0
System, Version=4.0.0.0
Microsoft.Practices.Prism, Version=4.0.0.0
PresentationCore, Version=4.0.0.0
Samba.Infrastructure.Data, Version=1.0.0.0
Samba.Infrastructure, Version=1.0.0.0
System.Windows.Forms, Version=4.0.0.0
System.Windows.Interactivity, Version=4.0.0.0
WindowsBase, Version=4.0.0.0
PropertyTools.Wpf, Version=2011.3.4771.32620
Microsoft.Practices.EnterpriseLibrary.Validation, Version=5.0.414.0
Samba.Domain, Version=1.0.0.0
System.Drawing, Version=4.0.0.0
System.Management, Version=4.0.0.0
UIControls, Version=1.0.0.0
System.Core, Version=4.0.0.0
Microsoft.Practices.ServiceLocation, Version=1.0.0.0
System.ComponentModel.Composition, Version=4.0.0.0
Samba.Persistance.Data, Version=1.0.0.0
Samba.Services, Version=1.0.0.0
Samba.Localization, Version=1.0.0.0
Microsoft.Practices.EnterpriseLibrary.Common, Version=5.0.414.0
mscorlib, Version=2.0.0.0
FlexButton, Version=1.0.0.0
WindowsFormsIntegration, Version=4.0.0.0
---
[System Info]
Operating System
-Microsoft Windows XP Professional
–CodeSet = 1252
–CSDVersion = Service Pack 3
–CurrentTimeZone = 420
–FreePhysicalMemory = 1414104
–OSLanguage = 1033
–ServicePackMajorVersion = 3
–ServicePackMinorVersion = 0
–Version = 5.1.2600
Machine
-CASHIER1
–Manufacturer = Wearnes
–Model = POS T-1550
–TotalPhysicalMemory = 2137174016
–UserName = CASHIER1\Administrator
---