I have come across the need for this request after trying to implement 'Mapping Order Tags to Portions'
This is a great feature that can help reduce user error, and currently I'm trying to implement this on my SET BR product.
My SET BR product has 3 Portions. 5 Items, 7 Items and 10 Items.
This is because we allow our customers to able to make up their own breakfast and we apply a set price for the portions, i.e Up to 5 Items 5.50, up to 7 Items 5.95, up to 10 Items 6.95.
Where errors can occur: sometimes users enter 7 Items and forget to change the portion to 7 Items hence undercharging the customer.
With this great new feature introduced in v4.1.23. This gave me hope of a fix.
So I created 3 order tags Set Br 5 Items, Set Br 7 Items and Set Br 10 Items and set the 'Max Selected Items'.
However, I came across a small problem which I'm hoping we can find a solution for.
I have managed to restrict the items to the required quantity but order tags that can have a multiple selection are not accounted for. i.e if customer orders 3 x E, 2 x S, this is already 5 items but we can still enter 3 more items. See: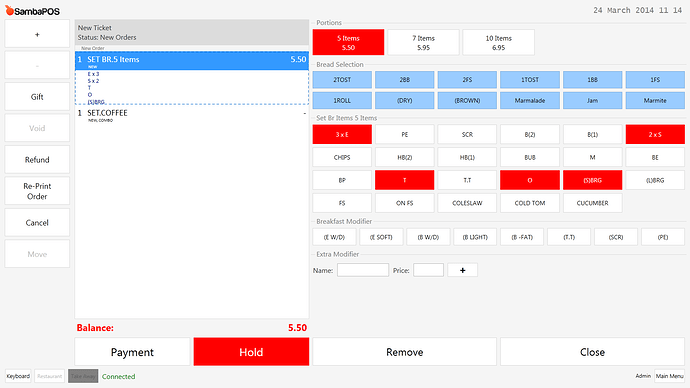 Is it possible to have a option to include multiple hit order tags in the Max Selected Items?