Hi, Thanks for the great app and for this great community support.
I'm setting up SambaPOS for the first time and having hard time with the printer setup. Following is my issues: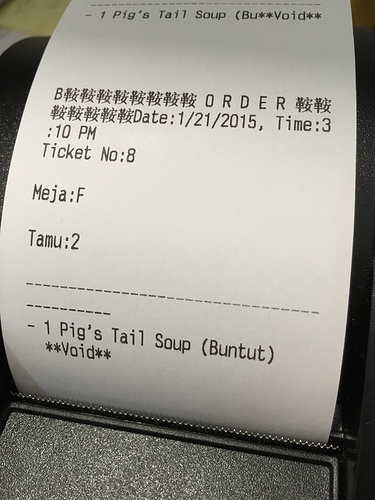 There's "B" letter that always showing up at the top left, and it shift any text even bmp image.

The < T > command, showing a Chinese character instead of =====
I tried to change from codepage Turkis to 437 .
I tried char replacement: 鞍=O,░=O , it doesn't work.
How do I set for 58mm paper?
I tried to limit from the "Line Character Count" to 31 , what happened is that it overlap my product name.
The last line is also printed below of the cutter, which mean I have to press feed button on the printer .
Oh, yes I'm using the EPPOS T58Z thermal printer
Sorry for my bad grammar.