A little background:
Looking to start using SambaIn to auto add tickets in Sambapos when a Gloriafood order is accepted - however if I have Gloriafood set to print the "Kitchen Essentials" then it duplicates the ticket in Sambapos (not in SambaIn that still shows the 1 ticket as it should).
As soon as I remove the Kitchen Essentials print job within Gloriafood admin panel from the printer details the duplicate tickets stop being created.
As a workaround I am setting up a new HTML kitchen print template for Samba to use when a new Gloriafood order comes in.
Now the question:
I have got pretty much everything i need except the syntax to print the following on the kitchen printer template:
LATER / ASAP
Order Number - gloriafood's not sambas
I am assuming they are sent to samba and saved as a ticket tag if so does anyone know what the tags are?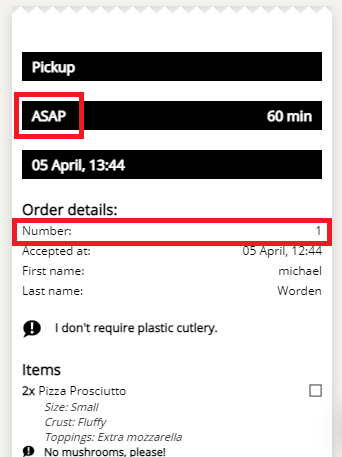 My template so far…
-- General layout
<div style="padding: 5px; text-align: Center; background-color: #000000 black; color: #ffffff; border: 1px black solid; width: 225px; font-family:'Helvetica'; font-size:14px; font-weight:normal;line-height: 1.6em;">{TICKET TYPE}</div>
<div style="height: 15px;"> </div>
<div style="padding: 5px; text-align: Center; background-color: #000000 black; color: #ffffff; border: 1px black solid; width: 225px; font-family:'Helvetica'; font-size:14px; font-weight:normal;line-height: 1.6em;">Collection {LATER OR ASAP} in {TICKET TAG:Pickup Minutes} minutes</div>
<div style="height: 15px;"> </div>
<div style="padding: 5px; text-align: Center; background-color: #000000 black; color: #ffffff; border: 1px black solid; width: 225px; font-family:'Helvetica'; font-size:14px; font-weight:normal;line-height: 1.6em;">{TICKET TAG:Pickup Time}</div>
<div></br></div>
<div style="font-size:14px;text-align: right;">
<table>
<tr>
<td>Order Details:</td><td></td>
</tr>
<tr>
<td>
<div style="height: 15px;padding:2px;">Order Numer:</div>
<div style="height: 15px;padding:2px;">Accepted At:</div>
<div style="height: 15px;padding:2px;">Printed At:</div>
<div style="height: 15px;padding:2px;">First Name:</div>
<div style="height: 15px;padding:2px;">Last Name:</div>


</td>
<td>
<div style="height: 15px;padding:2px;">{ORDER NUMBERS}</div>
<div style="height: 15px;padding:2px;">{TICKET TIME} {TICKET DATE:dd} {TICKET DATE:MMM}</div>
<div style="height: 15px;padding:2px;">{TIME} {DATE:dd} {DATE:MMM} {DATE:yyyy}</div>
<div style="height: 15px;padding:2px;">{ENTITY DATA:Customers:FirstName}</div>
<div style="height: 15px;padding:2px;">{ENTITY DATA:Customers:LastName}</div>
</td></tr>
</table>
</div>

<div style="height: 10px;font-size:12px;padding:5px;"></div>
<div style="text-align:center; border: 1px black solid;">
<div style="font-size:14px;padding:2px;font-family:'Calibri';">TICKET NOTE:</div>
<div style="padding:2px;font-size:16px;font-family:'Calibri';">{NOTE}</div>
</div>