Hello everyone,
I would like to know how can I print the amount of the transaction (account based).
Using Printer Templates, I was only able to print the total account amount (for the workperiod) and the total account balance, but what i am after is the individual transaction amount.
Can it be done with printer templates or using report template?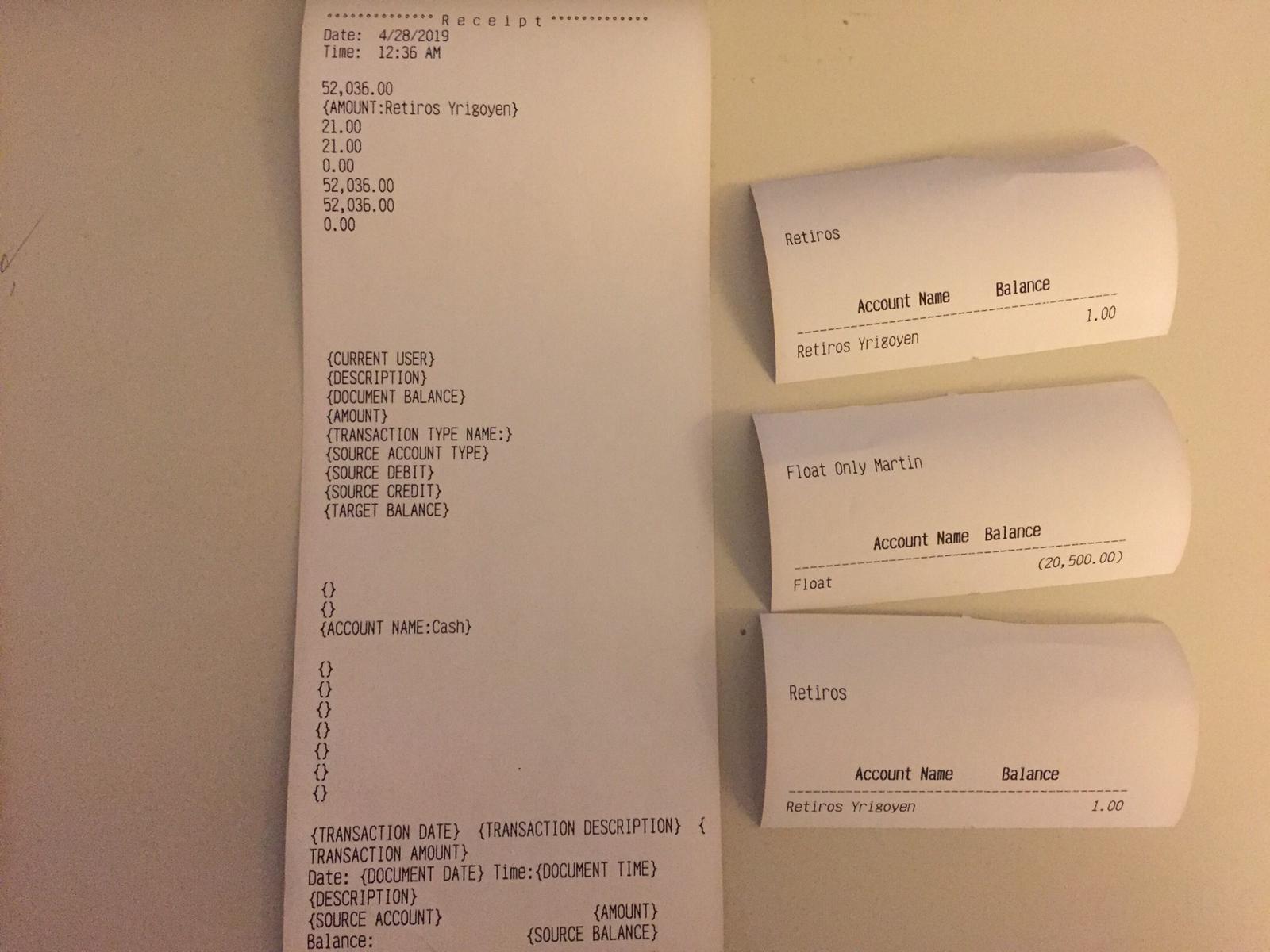 Please help
This is what i tried so far:
[LAYOUT]
– General layout
<T>Receipt
<J00>Date: {DATE}
<J00>Time: {TIME}
<J00>{DATE:X}
<J00>{ACCOUNT BALANCE:Retiros Yrigoyen}
<J00>{AMOUNT:Retiros Yrigoyen}
<J00>{ACCOUNT TOTAL:Retiros Yrigoyen}
<J00>{ACCOUNT DEBIT TOTAL:Retiros Yrigoyen}
<J00>{ACCOUNT CREDIT TOTAL:Retiros Yrigoyen}
<J00>{ACCOUNT TYPE BALANCE:Retiros Yrigoyen}
<J00>{ACCOUNT TYPE DEBIT BALANCE:Retiros Yrigoyen}
<J00>{ACCOUNT TYPE CREDIT BALANCE:Retiros Yrigoyen}
<J00>{ACCOUNT TRANSACTION TOTAL:Retiros Yrigoyen}
<J00>{ACCOUNT TRANSACTION DEBIT TOTAL:Retiros Yrigoyen}
<J00>{ACCOUNT TRANSACTION CREDIT TOTAL:Retiros Yrigoyen}
<J00>{ACCOUNT TRANSACTION DETAILS:Retiros Yrigoyen}
<J00>{ACCOUNT TRANSACTION COUNT:Retiros Yrigoyen}
<J00>{REPORT ACCOUNT TRANSACTION DETAILS:Retiros Yrigoyen}
<J00>{DESCRIPTION:Retiros Yrigoyen} Transaction Description
<J00>{AMOUNT:Retiros Yrigoyen} Transaction Amount
<J00>{EXCHANGE RATE:Retiros Yrigoyen} Transaction Exchange Rate
<J00>{TRANSACTION TYPE NAME:Retiros Yrigoyen} Transaction Type Name
<J00>{SOURCE ACCOUNT TYPE:Retiros Yrigoyen} Source Account Type
<J00>{SOURCE ACCOUNT:Retiros Yrigoyen} Source Account
<J00>{SOURCE DEBIT:Retiros Yrigoyen} Source Debit
<J00>{SOURCE CREDIT:Retiros Yrigoyen} Source Credit
<J00>{SOURCE AMOUNT:Retiros Yrigoyen} Source Amount
<J00>{SOURCE BALANCE:Retiros Yrigoyen} Source Balance
<J00>{TARGET ACCOUNT:Retiros Yrigoyen} TYPE Target Account Type
<J00>{TARGET ACCOUNT:Retiros Yrigoyen} Target Account
<J00>{TARGET DEBIT:Retiros Yrigoyen} Target Debit
<J00>{TARGET CREDIT:Retiros Yrigoyen} Target Credit
<J00>{TARGET AMOUNT:Retiros Yrigoyen} Target Amount
<J00>{TARGET BALANCE:Retiros Yrigoyen} Target Balance
<J00>Total|{ACCOUNT TRANSACTION TOTAL:Retiros Yrigoyen OUT:Cash}
<J00>{CURRENT USER}
<J00>{DESCRIPTION}
<J00>{DOCUMENT BALANCE}
<J00>{AMOUNT}
<J00>{TRANSACTION TYPE NAME:}
<J00>{SOURCE ACCOUNT TYPE}
<J00>{SOURCE DEBIT}
<J00>{SOURCE CREDIT}
<J00>{TARGET BALANCE}
<J00>{ACCOUNT TOTAL:X}
<J00>{ACCOUNT CREDIT TOTAL:X}
<J00>{ACCOUNT TRANSACTION DETAILS:X}
<J00>{}
<J00>{}
<J00>{ACCOUNT NAME:Cash}
<J00>{PAYMENTS}
<J00>{}
<J00>{}
<J00>{}
<J00>{}
<J00>{}
<J00>{}
<J00>{}
<J00>{ACCOUNT TRANSACTION DETAILS:Booking Account Transaction:{ENTITY NAME}}
<J00>{TRANSACTION DATE} | {TRANSACTION DESCRIPTION} | {TRANSACTION AMOUNT}
<J00>Date: {DOCUMENT DATE} Time:{DOCUMENT TIME}
<L00>{DESCRIPTION}
<J00>{SOURCE ACCOUNT} | {AMOUNT}
<J00>Balance:|{SOURCE BALANCE}
<F>-
{TRANSACTIONS}
<F>-
[TRANSACTIONS]
<J00>Total|{ACCOUNT TRANSACTION TOTAL:Retiros Yrigoyen OUT:Cash}
<J00>{SOURCE ACCOUNT:Retiros Yrigoyen} | {AMOUNT}
<J00>Balance:|{SOURCE BALANCE:Cash}