So, pls tell me about calculation. Let's see this picture: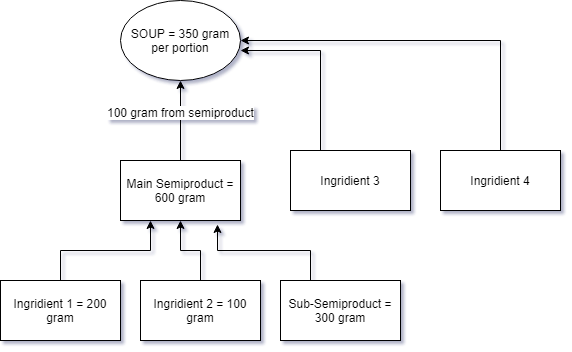 We have a product, like soup. The portion that is served on the table is 350 grams. When it is used in the preparation of semi-finished products and other ingredients. Semi-finished product in the preparation also uses its semi-finished products. The output value of a semi-finished product is always different. In the case of conventional ingredients, I specify the base unit as a gram and specify:
Onion = 50 gram
Meat = 150 gram
Potato = 200 gram
etc.
It's easy since I'm tied to a value of 1 gram and 1000 grams for each ingredient. But I have to add the semi-finished product. However, the output of semi-finished products is not 1000 grams, but for example 600 grams. I make a recipe for this semi-finished product from the calculation that will get 600 grams of the finished product. But when I add it to the recipe of the main dish, I can not specify the weight as in the case of the usual ingredient. I have to calculate some of it. What to do in this case? To calculate the semi-finished product not for 600 grams of yield, and in 1 gram? Or write not in grams, and calculate in parts of the output?