Unfortunately you can not increase that in version 4. In version 5 you can do some cool things with states Display setting.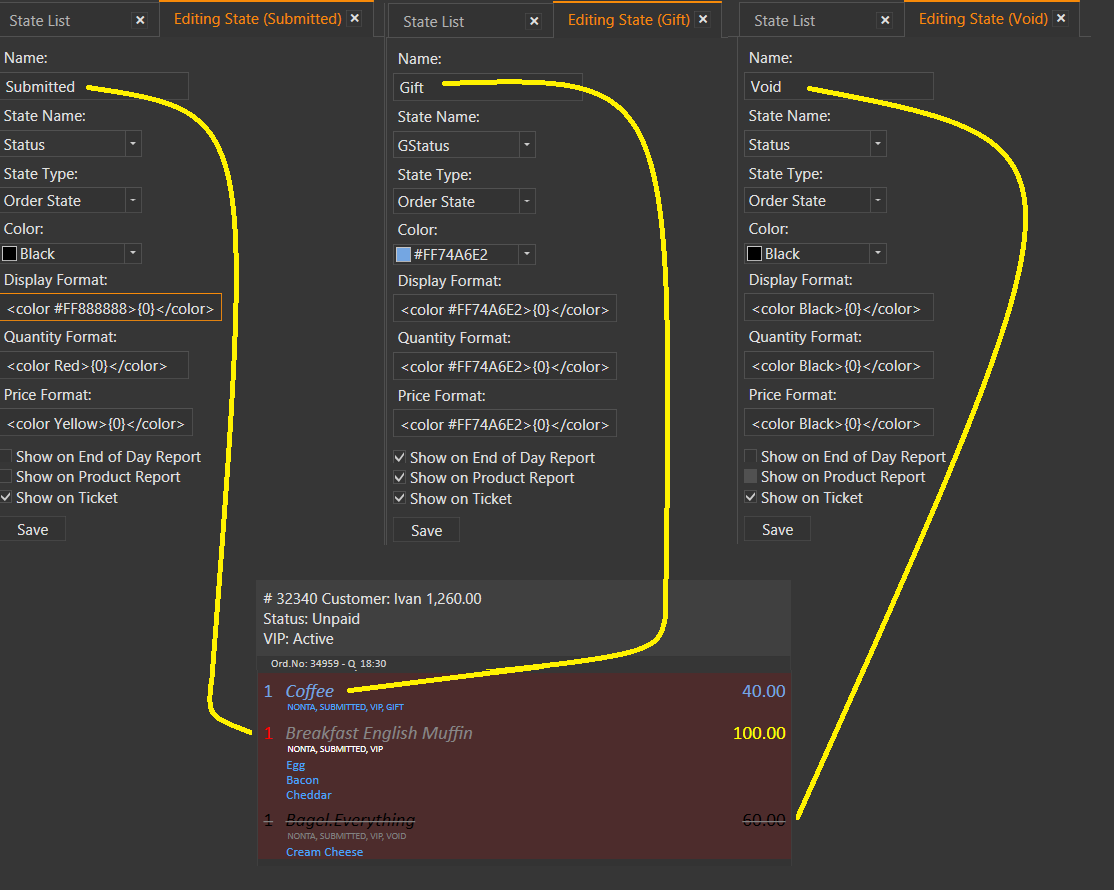 It is best not to allow your workers to see those state names. Instead for things like gifted items you can set Display Format in version 5. Version 4 you can not do that.
PS: That is not referred to as a Tag it is an Order State. Calling it a Tag might confuse someone thinking its an Order Tag.
for version 4, there is no other solution?
Those are States being displayed, not Order Tags.
In V5 you can alter the format of an Order Tag.
The display format for the States themselves cannot be changed, but in V5 you can alter the display format of the Order line based on the State as @Jesse has shown.
You can increase Local Settings > Display > Zoom setting a little for better reading.
You can not increase just that line. You can increase zoom of entire screen.
muchas gracias por su ayuda amigo Kendash, its recommendations will help me solve my problem.
Atte. Arturo
HI Kendash
I could see your rule to guide me?
I have already v5: D and I can not increase order status: plz!!!
You answered yourself.
Did you read our responses?
What I showed you is that you can change colors etc. I never said you can increase size of that line. I Said its best not to show that line at all instead use colors to demonstrate. Train staff to look for colors.
in the example you showed me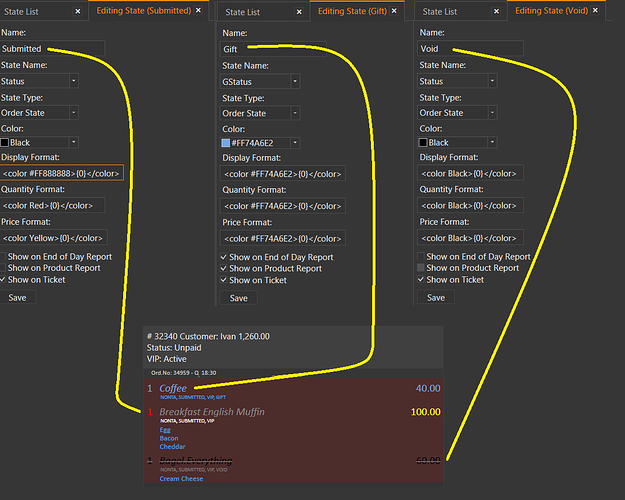 I would like to see their actions and rules?
There are no actions or rules… those colors are set from that screen.
Look at Display Format: Quantity Format: and Price Format:
as increases the " MONTA " and " VIP" in product COFFEE
You CAN NOT increase the size of those lines. Maybe you couldnt understand my language. I have told you three times now that you can NOT increase the size of those lines. You can increase the zoom of entire screen or you can Change Colors.
excuse my language
I have 4 state order
Yes you do. What do you want to do with them and why? PS Even if you have 4… you still cant increase size.
Why does your staff need to see those? Its best to keep those hidden there is no reason for staff to see them.
I need good that label
to label every order with their respective chair and so to know which order belongs to each chair.