I'm not sure where to put this, so for now I'll log it as a Request.
I refuse to believe that I am the only one who thinks that Inventory Purchases needs some work: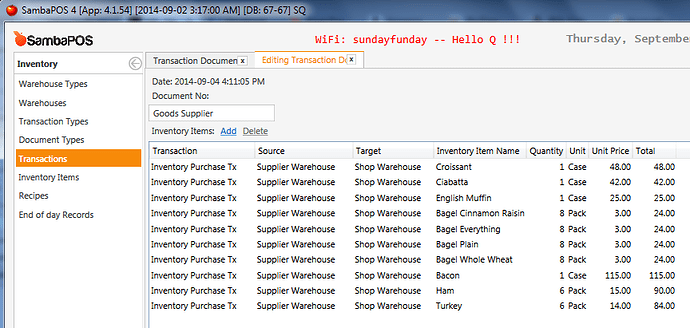 First of all, this is in the Manage section, which, for small operations is very inconvenient. When a Supplier arrives at my door we frequently pay for the Stock out of the Drawer. Unfortunately, we are forced to enter the Total Amount of all products into a Payout screen for that particular supplier, with no regard for the individual products, their quantities, or their cost.
Second, and perhaps more importantly, the Inventory Transactions are separated from the other types of Transactions and their Accounts - there is no correlation between them at this time.
I eluded to a proposed flow here:

Specifically, here:
I am about to start on a PHP solution for this so that I can enter Stock Purchases in a more friendly manner, including the cost of each Case/Package, it's Tax (if any), and Total Price to finally result in a transaction being made from/to the proper accounts, and update the Inventory counts - all of this done via custom SQL against the SambaPOS DB.
However, if improvements in this system are going to made in SambaPOS in the very near future, I'm not sure that I need or want to go through the work required to make this work outside of SambaPOS, while integrating it into the SambaPOS DB.
@emre, have you given this any thought?