Someone showed me another POS software today and something caught my eye and had to request this feature for SambaPOS the moment I saw it!
It is full screen, you click the keyboard icon and it opens the native Windows 10 touch keyboard.
Can we have the option to do this in SambaPOS? I'd suggest rather than change something many already like with the built in SambaPOS keyboard, but add the option to allow the keyboard button in bottom left to invoke the Windows touch keyboard instead of the SambaPOS one?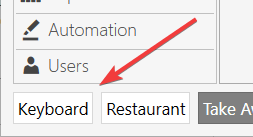 @VehbiEmiroglu is this straightforward to do? I also appreciate this may only be supported in Windows 10 and Windows 8?
There are many benefits to this. We usually have some customers having to use an overlay button to invoke the Windows touch keyboard because they need that for foreign language input, for example Chinese input where the Windows touch keyboard IME supports handwriting input. Without setting the overlay button in Windows, which no matter where you place it it's going to obstruct something at some point, there is no easy way to display the Windows touch keyboard without using a mouse or physical keyboard to access the button from the Windows taskbar.