The 2 screenshots you posted are not related.
The first is an activation email for SambaPOS forum. This is purely to verify your email so you can post on this forum, it has nothing to do with license / module activation in SambaPOS.
The activation warning you see in SambaPOS is because you either have not installed the license module, or you have exceeded the trial limit of 500 tickets. If you want to purchase a license for SambaPOS V5, you need to go to sambamarket.com.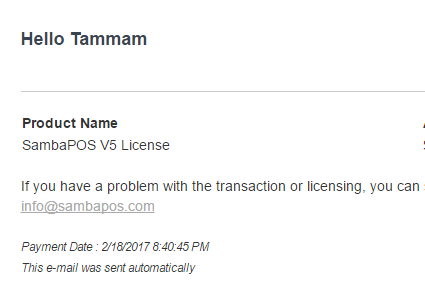 Ok so you purchased the license already.
In SambaPOS, go to Samba Market, then click the login link. Login with your sambamarket.com username and password, then click Activate on the V5 license.
Uninstall the License module, Log out of your market account, shutdown sambapos, go back to www.sambamarket.com and login and choose the option Ive changed my database. Clear license keys.
Restart sambapos log in to your Market account then click install then restart sambapos then try activating.
Kindly advise on how can I find the option (Ive changed my database. Clear license keys)