Hi
I have the refund button setup and it works brilliantly except when the ticket total is a minus amount. If an item is refunded and another added to the ticket but the value of the ticket is a minus, OR if i simply just want to refund one or more items so the ticket value is a minus the only option for tender of a refund is ZERO since im not taking money off a customer im giving it back.
Could the cash, card, voucher payment buttons on the settle screen be activated when 0.00 is typed as the tendered value, this would allow me to settle the refund transaction. the whole process work perfectly if i type tender as 0.01, since ive type a value the payment buttons become active, I can press cash or card etc and change message appear saying correct change so i can complete the refund
is there a setting where these payment buttons will become active on typing 0.00 as tender to smooth out this refund issue?
See screenshots below
0.00 entered as tendered as im not taking money off the customer im giving it back, but payment buttons not active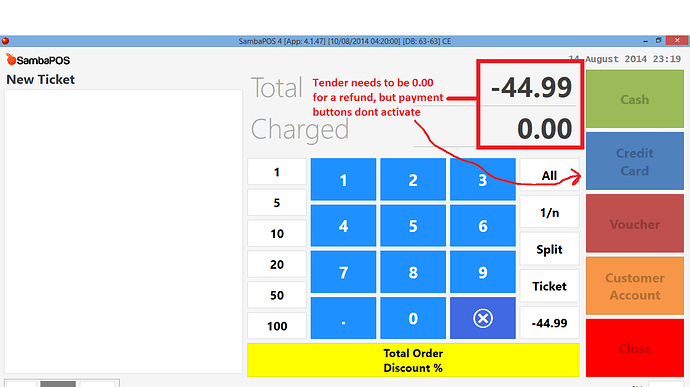 Type in any tender type 0.01 or more and the buttons become active, refund transaction will settle and correct change is displayed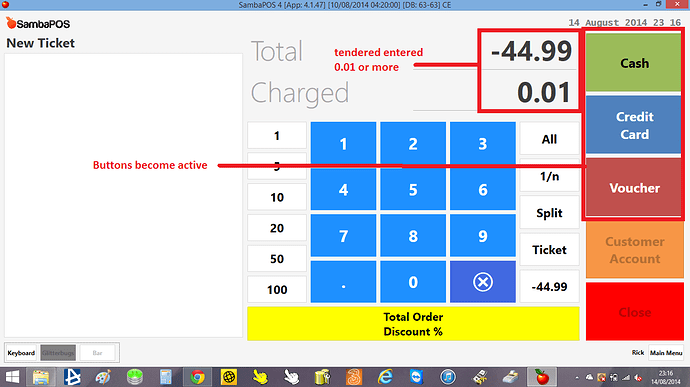 can payment buttons be activated for 0.00 tender value?