So got stocktake today and quite puzzled.
Just noticed on Item Sales Report the total sales for several products was an odd number. Since all prices are rounded to at least 5p to have totals with .16 and .14 was odd.
Looking at first product bottled Becks.
Price £3.50
8 Sold
1 Refunded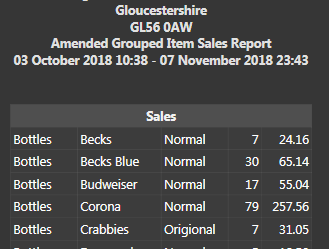 So first thing I though since was only small number sold was to quickly double check database, perhaps for whatever reason a price had been overidden.
No… all orders are the correct price in database.
So, is it the report…
[Item Sales:8, 2, 2, 2]
{REPORT ORDER DETAILS:O.ItemGroup,O.ExactTotal.Percent,O.Quantity.Sum,O.ExactTotal.Sum}
Total Sales||{REPORT ORDER DETAILS:O.ExactTotal.Sum}

I cant see how it is, the default item sales report seems to have the exact same total/issue…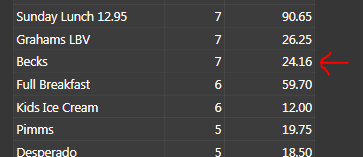 So… 7*3.50-24.16 = 0.34… so what is 0.34 difference from…
Isnt VAT (20%) that would be 0.58333333