Hi Guys,
Having a random problem with this printing as you can see below: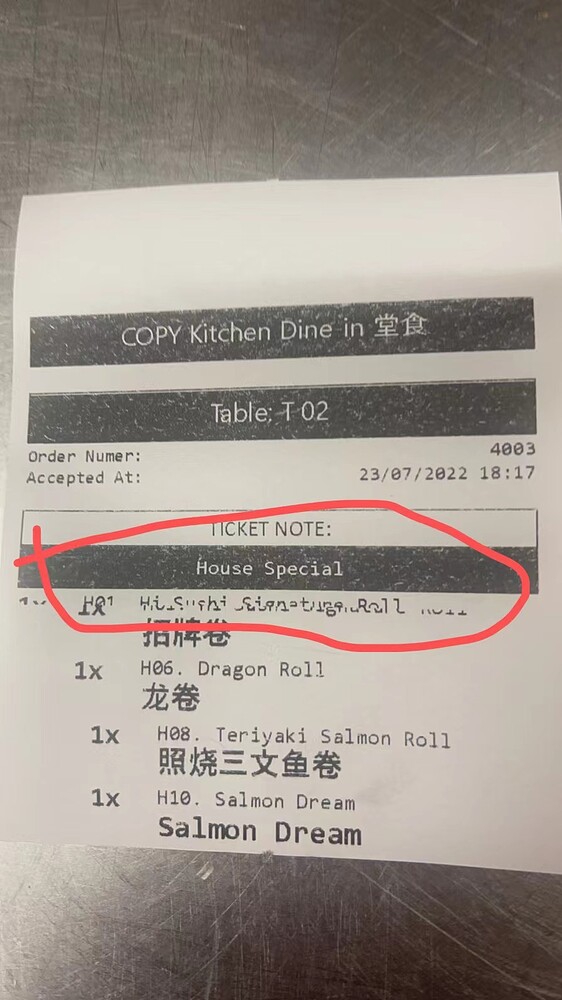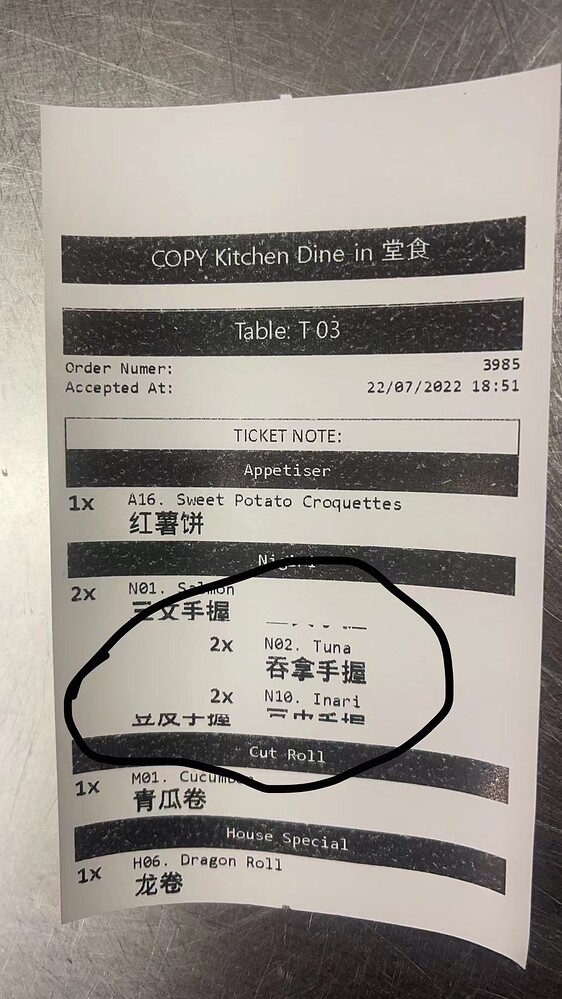 ---
Printer Epson TM-M30II
I spoke with Epson Support, they reckon this might be a software issue.
I have the Printer Template below:
I could not figure out if there is anything that might cause this.
Any idea would be appreciated. Cheers!
[LAYOUT]
-- General layout
<div style="height: 20px;"> </div>

-- Header Start
	<div style="padding: 5px; text-align: Center; background-color: #000000 black; color: #ffffff; border: 1px black solid; width: 225px; font-family:'Helvetica'; font-size:14px; font-weight:normal; line-height: 1.6em;">
	COPY Kitchen Dine-in 堂食
	</div>
	
<div style="height: 15px;"> </div>

	<div style="padding: 5px; text-align: Center; background-color: #000000 black; color: #ffffff; border: 1px black solid; width: 225px; font-family:'Helvetica'; font-size:14px; font-weight:normal; line-height: 1.6em;">
	{ENTITIES}
	</div>
<div style="font-size:10px;text-align: justify;">
	<table>
		<tr>
			<td>
				Order Numer:
				Accepted At:
			</td>
			<td>
				<div style="font-size:10px;text-align:right;">
				{ORDER NUMBERS}
				{TICKET DATE} {LAST ORDER TIME}
			</td>
		</tr>
	</table>
</div>

<div style="height: 10px;font-size:12px;padding:5px;"></div>
<div style="text-align:center; border: 1px black solid;">
<div style="font-size:12px;padding:2px;font-family:'Calibri';">TICKET NOTE:</div>
<div style="padding:2px;font-size:12px;font-family:'Calibri';">{NOTE}</div>
</div>
-- Header till here


{ORDERS}


[ORDERS]
-- Default format for orders
<table width=200>
<tr>
	<td width="2*" align=left><strong style="font-size: 14px;">{QUANTITY}x</strong></td>
	<td width="14*">{NAME}<br/><strong style="font-size: 16px;">{PORTION NAME}</strong></td>
	<td width="4*" align=right></td>
</tr>
<tr>
	<td>
	{ORDER TAGS}
	</td>
</tr>
</table>

[ORDERS GROUP|PRODUCT TAG:Kitchen Group:Appetiser,Platter,Sashimi,Nigiri,Cut Roll,Temaki,Fried Sushi,House Special,Donburi,Bento,Noodle King,Rice Noodle,Side,Dessert,Event Item]
<div style="padding: 5px; text-align: Center;background-color: #000000 black; color: #ffffff;">{GROUP KEY}</div>

[ORDERS:Gift]
-- Format for gifted orders
<table width=200>
<tr>
	<td width="2*" align=left><strong style="font-size: 14px;">{QUANTITY}x</strong></td>
	<td width="14*">{NAME}<br/><strong style="font-size: 16px;">{PORTION NAME}</strong></td>
	<td width="4*" align=right>FREE</td>
</tr>
<tr>
	<td>
	{ORDER TAGS}
	</td>
</tr>
</table>

[ORDERS:Void]
-- Nothing will print for void lines

[ORDER TAGS]
-- Format for order tags
<div style="padding:0 0 0 20; font-size:12px">[={ORDER TAG QUANTITY}>1?'{ORDER TAG QUANTITY} X ':'']{ORDER TAG NAME} [({ORDER TAG TOTAL PRICE})]</div>

[ENTITIES]
-- Table entity format
<div>Table: {ENTITY NAME}</div>