Good Morning All,
I have an issue in ticket printing.
When I am configuring the ticket print, it is coming correctly, but when I am taking the print its coming wrongly.
Am using the HTML printer.
Below image is Preview.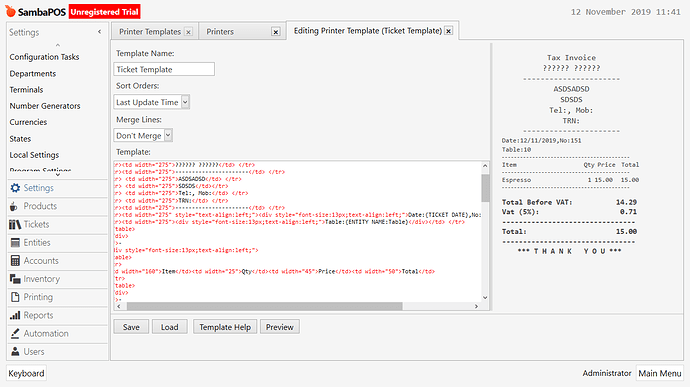 and below is my template code
Tax Invoice
?????? ??????
----------------------
ASDSADSD
SDSDS
Tel:, Mob:
TRN:
----------------------
Date:{TICKET DATE},No:{TICKET NO}
Table:{ENTITY NAME:Table}
-
- {ORDERS} - [Total Gift:|{ORDER STATE TOTAL:Gift}] {SERVICES}
Total Before VAT:

[=F(TN('{TICKET TOTAL}')/1.05)]

{DISCOUNTS}
Vat (5%):

[=F((TN('{TAX TOTAL}')),'0.00')]

--------------------------------
Total:

{TICKET TOTAL}

{PAYMENTS}
--------------------------------

*** T H A N K Y O U ***
[DISCOUNTS] {CALCULATION NAME}:|{CALCULATION TOTAL}
[SERVICES]
{CALCULATION NAME}|{CALCULATION TOTAL}
[PAYMENTS]
{PAYMENT NAME}
[ORDERS]
– Default format for orders
| | | | |
| --- | --- | --- | --- |
| {NAME} | {QUANTITY} | {PRICE} | {TOTAL PRICE} |
{ORDER TAGS}
[ORDERS:Gift]
– Format for gifted orders
- {QUANTITY} {NAME}|GIFT
{ORDER TAGS}
[ORDERS:Void]
– Nothing will print for void lines
[ORDER TAGS]
– Format for order tags
*{ORDER TAG NAME} {ORDER TAG PRICE}
[ENTITIES:Table]
– Table entity format
Table: {ENTITY NAME}
[ENTITIES:Customer]
– Customer entity format
Customer: {ENTITY NAME} | {ENTITY DATA:Phone}
[ENTITIES:Deliverers]
– Deliverer entity format
Deliverer: {ENTITY NAME}
And am getting the print like below