So i am setting up sambapos for our business (pending purchase until setup)
Our setup is that its a department, fast pay button is set to Bill, and prints with barcode with the price embedded in the barcode,
so we dont have any tables, extra states, im using fast payment of (BILL) to send it to a paid state.
I have made a entity screen where it shows ticket lister (the help of other posts)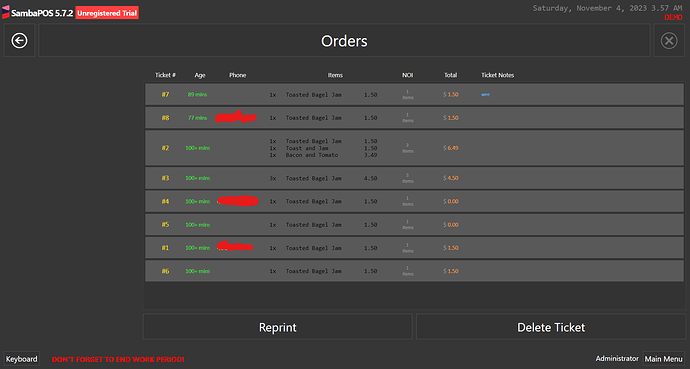 because i want to make it easy for my staff who are not computer savvy,
just reprint and Delete.
so if they make a mistake delete it and make it again
and Reprint Button incase they need to reprint.
i looked through alot of tutorials, I got the ticket lister etc working but i am not able to get these two buttons to do anything, I deleted all my custom actions, rules etc.
hoping to be guided by someone if possible.
also small issue i noticed when i sort descending order {TICKET NO}, for ticket lister it list as such order (from the bottom) 1 , 12, 2, 3, 4, 5, 6, 7, 8,
basically 12 is before 2