Hi All,
How could i setup / connect client (windows tablet) to the main one at counter please
If it's Windows tablet you can install samba on it.
You need to be running samba on SQL database not LocalDB and then set tablet to refer romain PC database.
See the SQL tutorial, has all info you need.
Thank you JTRTech,
Install samba on windows tablet like screen below you mean?

Yes you install sambapos onto the tablet just like any other computer. But do not select SQL Server Local DB 2014. You should be running full SQL Express.
Hi Kendash,
Could i have your advice, now i have one All-In-One touch screen running SAMBAPOS V5 license and i have 3 windows tablet, do i have to buy more 3 license to activate?
No its one licence per database so connect all tablets to your database and just activate the licence on each tablet
Hi RickH,
Could i have your advice for SAMBAPOS install on my 3 windows tablet is like screen below and then using only SQL connect correct?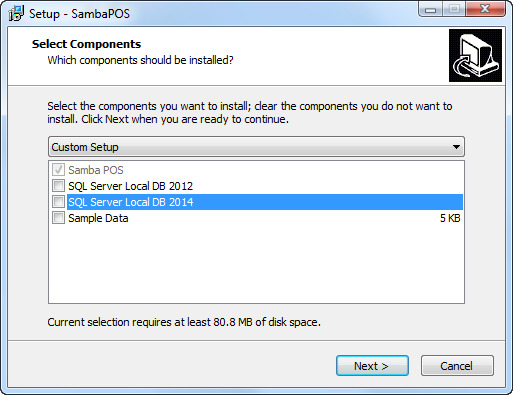 dont install server on the tablets, you choose the server path in the tablet settings.
the window you have above with no checked boxes is correct for each tablet