Have hit a bit of a snag in my PMS integration.
Am working on my last main script for transferring sales and payments for non room transfer tickets (Cash & Card over the bar)
I was using a script based on a start from @QMcKay
SELECT SUM(o.[Price] * o.[Quantity]) as TotalAmount
FROM [Orders] o JOIN [Payments] p ON p.[TicketId] = o.[TicketId] JOIN [MenuItems] m ON o.[MenuItemId] = m.[Id] JOIN [Tickets] t ON o.[TicketId] = t.[Id]
WHERE 1=1 AND m.[CustomTags] like '%'+@tagName+'%' AND p.[Name] != '@2' AND  t.[Date] > '@3' 

It works fine so long as there is only one payment per ticket…
Once there is more than one payment per ticket the order rows are duplicated for each payment

I need to know orders and payment type to be able to split out the room charge orders which will have already been transferred to the PMS…
At the minute the only way I can think to solve the problem is to set an order state to orders charged to room so can go from orders table only for sales post and payments table for payments post.
I understand why its happening but not sure how to get around it, any suggestions greatly appreciated.
As an example;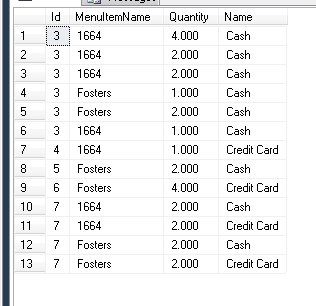 Ticket ID 7 was 2x1664 and 2xFosters with half Cash and half Card payments.