So to recap…
##Server
On the Server, where SQL Express is installed, ensure these Services are running:
SQL Server
SQL Server Browser
SQL Server VSS Writer (not required for remote connections, but needed for DB Backup/Restore etc.)
---
Create Inbound Rules in Windows Firewall to allow access to required Protocols/Ports:
Control Panel > Windows Firewall > Advanced Settings > Inbound Rules > New Rule...
TCP 1433
UDP 1434
TCP (choose a Port for Messaging Service)
Inbound Rule for Messaging Service…
---
Using SQL Server Configuration Manager, enable TCP/IP connections under SQL Server Network Configuration > Protocols for [SQLEXPRESS], and set a Static TCP Port (1433) for the IP of the Server. Also, it is suggested to delete the 0 in the TCP Dynamic Ports field.
---
Run the Messaging Server Service Tool on the Server to install the Messaging Service as a Windows Service so that it starts when Windows starts. You can use it to update the Port you want to use as well.
C:\Program Files (x86)\SambaPOS5\Samba.MessagingServerServiceTool.exe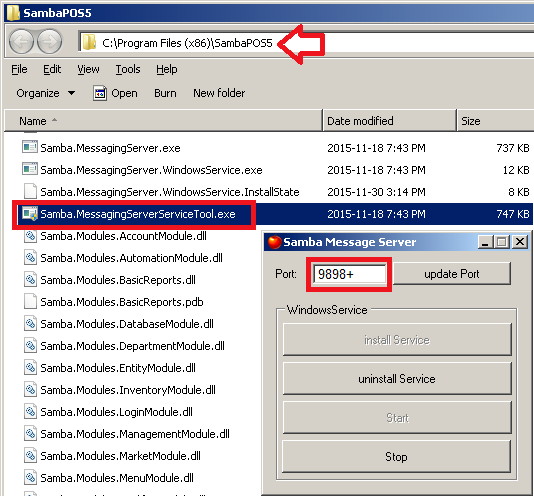 Check the SambaPOS MessagingServer Service Logon options and use an Administrator Account …
---
Ensure you have Terminals defined in SambaPOS for each Terminal (including the Server).
Manage > Settings > Terminals
---
Configure the Server to use the "Server" Terminal name, and set the Message Client to auto-start. Since this is the main Server, you can use the following for the Message Server Name:
Manage > Settings > Local Settings
name of the computer (i.e. http://SERVER-PC)
http://localhost (local loopback name)
IP address of the server computer (i.e http://192.168.0.200)
http://127.0.0.1 (local loopback IP address)
---
##Client
There are no special settings that need to be made in Windows for the Client Terminals. For example:
no need to mess with the Firewall
SQL Express does not need to be installed, so there are no services to check on (we will configure SambaPOS to connect to the database on the main Server Terminal)
Messaging Server Service should not be running or installed (no service to check)
Ensure your Local Settings are configured properly for this Terminal.
Manage > Settings > Local Settings
select the name that will be used for this Terminal (every terminal must use a unique name)
set the Connection String to connect to the Database on the Server
set the Message Client to auto-start, and set the Message Server Name to the IP address or Computer Name of the Server (ie. http://JVSERVER)