Did anyone get to see if spotify will work with V5?
Matt
Why do you want Spotify, what would it control?
We are discussing a custom Device that can interact and control Winamp. This means you can pick and choose your own playlist and it is not internet dependent. This is something the community is working on not Emre so please do not expect him to work on it. Most of the discussion is in Beta because of the feature set we are using.
Do not expect this soon I just thought I would mention it because its relevant and its interesting project.
cheers @Jesse
Its something a customer asked today wether they could have spotify running on their till… I had to explain to him that it could hardly handle XP, so spotify was a big no no.
fickle, i understand Spotify is for non commercial use. Its none of my business if this guy wants to use it. Ive told him, he's not bothered. What can I do?
Liking the winamp idea though. Ill search for the topic.
Matt
What can we do with spotify API? Fetching playlists or listing tracks maybe? However to be able to play music it needs a player that works in web browser. So best way to use spotify will be embedding a HTML widget.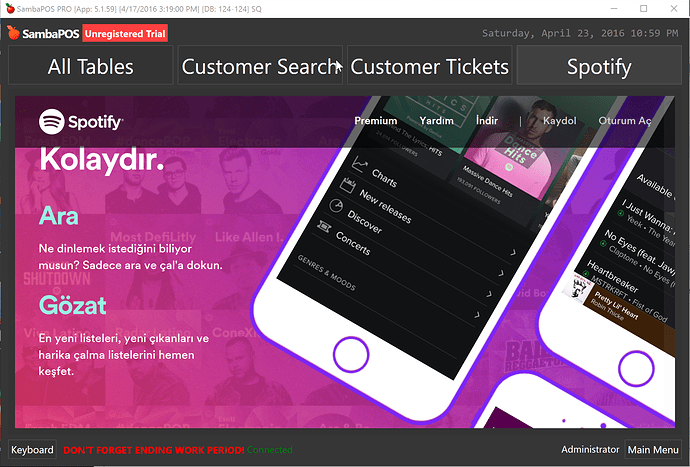 whoa! yes! I like this a lot!
Thanks
Emre just put an HTML Viewer Widget on a Custom Entity Screen… you can do it too!
That is now the Google Maps works in the Custom Package Delivery System Tutorial.
Spotify? Meh …

Yup I got that.
Just jobs formed client it can be done they are very happy. They have also agreed for me to upgrade their tills to allow a v5 upgrade.
That'll be 2 v5s I will be selling this week I should become an official reseller

Matt
Just a side note. Disable Auto Refresh from widget properties so it won't reload page when you switch to that screen.
Thanks @emre appreciate the help on this
I have not used it with V5 yet but I will try it
I don't know whether Spotify is available for V5. But I usually use DRmare Spotify Music Converter to convert Spotify songs as common audio formats for playing Spotify on other devices, players, platforms.
If it doesn't work with V5, you can try the tool I used to convert Spotify to see whether it can help you out here.