I have done a setup of the advanced delivery with the configuration task but with some notable changes. But I did not change the customer/entity search part. The Ticket type of the entity screen is defined as 'Delivery Ticket'. The issue is that when I select a customer then every second time the widget creates a ticket type of 'Ticket' instead of a 'Delivery Ticket'.
The command buttons are the default ones defined as
Select Customer=Select
Edit Customer=Edit
Create New Customer=Create
and I guess there is some magic behind this to create the ticket with the associated ticket type.
Here a Rule debugger picture with 2 times selecting a customer. In the first instance of ticket creation it creates the 'Delivery Ticket' and in the second a normal 'Ticket'.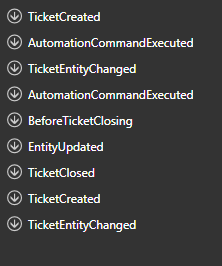 Below are the details of the 2 ticket creation events which show the different ticket types being created.
Maybe someone has an idea what is going wrong here - I will probably just remove the select customer command and roll my own command button. Thanks.