Hello, got a question about the formatting of the duration of the employee.
I put now the days, h and min. It is okay, but the ideal format would be the sum of the hours and minutes.
Instead of 1 day, 10:38 would be mor suitable 34:38.
Is this possible by changing the fs\\:d\ \j\o\u\r\s\ \\:hh\\:mm or do I have do do a calculation?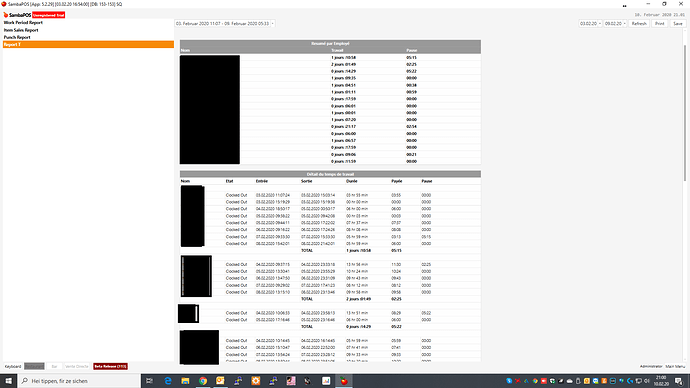 Here the report:
{TIME}
@{REPORT TASK DETAILS:TSC.User:((TST=Punch))::{0}:,}
[Resumé par Employé:2,1,1]
Nom|Travail|Pause
{REPORT TASK DETAILS:TSC.User.asc, TSD.Clocked In.sum;fs\:d\ \j\o\u\r\s\ \:hh\:mm,TSD.Break.sum;fs\:hh\:mm,:(TST=Punch) AND T.Content="$1"}
[Détail du temps de travail:1.5,1,1.5,1.5,1.5,1,1,1]
Nom|Etat|Entrée|Sortie|Durée|Payée|Pause
@{REPORT TASK DETAILS:TSC.User:((TST=Punch))::{0}:,}
$1
{REPORT TASK DETAILS:
TSC.User.asc,
T.State,
T.StartDate,
T.StartTime,
T.Duration.sum,
[TDM($5)];hh,[TDM($5)];mm,
TSD.Clocked In.sum;fs\:hh\:mm,
TSD.Break.sum;fs\:hh\:mm,
T.EndDate,
T.EndTime,
:((TST=Punch)) AND T.Content="$1"
:{0}|{1}|[=FD("{2}",'dd/MM/yyyy')] {3}|[=FD("{9}",'dd/MM/yyyy')] {10}|{5} hr {6} min|{7}|{8}}
|||TOTAL|{REPORT TASK DETAILS:TSD.Clocked In.sum;fs\:d\ \j\o\u\r\s\ \:hh\:mm,TSD.Break.sum;fs\:hh\:mm:(TST=Punch) AND T.Content="$1"}