When a ticket is created from an enitty I would like to do some actions on that entity.
I have a On Ticket Create Rule but its being called before the ticket entity loads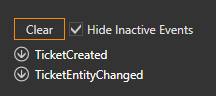 How would I be best to change this? So the ticket Entity Loads then the ticket is created, If I cant change this what option do I have?
Edit: I know I can use a delayed automation command, but I wouldnt really want that 1 second wait I need to put as the delay.