While testing my new discount system I think ive found a bug.
I calculate my discounts in this rule, its not my rounding of calculations in this rule.
I know its not these as adding a 0 priced order doesnt crash it i just dont get a calculation (that was before adding the attempt to prevent crach with the addition of the > and <= parts of the constraints to prevent the /0.05 being the issue.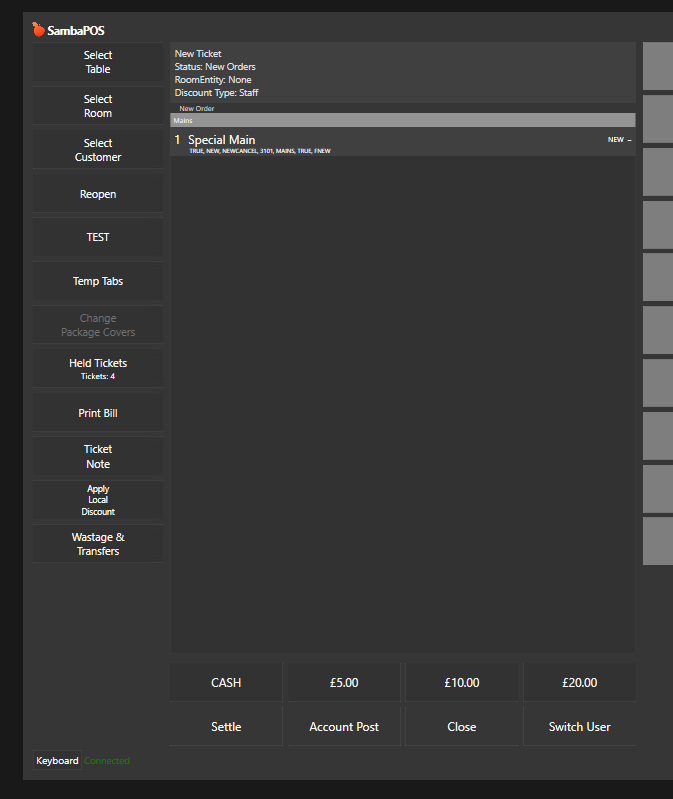 The issue comes where if I start a ticket and add orders valid for discount which is applied then change the order to 0.
Have tried adding a calculation update execute command directly after the update price action to no avail.
It seems to crash even before the price is changes and anything recalculated;
-----------------------------
[General Info]

Application: SambaPOS
Version:     5.1.58
Region:      en
DB:          SQ
Machine:     EPOS-SERVER
User:        EPOS
Date:        2018-03-12
Time:        04:40

User Explanation:

EPOS said ""
-----------------------------

[Exception Info 1]

Top-level Exception
Type:        System.Reflection.TargetInvocationException
Message:     Exception has been thrown by the target of an invocation.
Source:      mscorlib
Stack Trace: at System.RuntimeMethodHandle.InvokeMethod(Object target, Object[] arguments, Signature sig, Boolean constructor)
   at System.Reflection.RuntimeMethodInfo.UnsafeInvokeInternal(Object obj, Object[] parameters, Object[] arguments)
   at System.Delegate.DynamicInvokeImpl(Object[] args)
   at System.Windows.Threading.ExceptionWrapper.InternalRealCall(Delegate callback, Object args, Int32 numArgs)
   at System.Windows.Threading.ExceptionWrapper.TryCatchWhen(Object source, Delegate callback, Object args, Int32 numArgs, Delegate catchHandler)
   at System.Windows.Threading.DispatcherOperation.InvokeImpl()
   at System.Windows.Threading.DispatcherOperation.InvokeInSecurityContext(Object state)
   at System.Threading.ExecutionContext.RunInternal(ExecutionContext executionContext, ContextCallback callback, Object state, Boolean preserveSyncCtx)
   at System.Threading.ExecutionContext.Run(ExecutionContext executionContext, ContextCallback callback, Object state, Boolean preserveSyncCtx)
   at System.Threading.ExecutionContext.Run(ExecutionContext executionContext, ContextCallback callback, Object state)
   at MS.Internal.CulturePreservingExecutionContext.Run(CulturePreservingExecutionContext executionContext, ContextCallback callback, Object state)
   at System.Windows.Threading.DispatcherOperation.Invoke()
   at System.Windows.Threading.Dispatcher.ProcessQueue()
   at System.Windows.Threading.Dispatcher.WndProcHook(IntPtr hwnd, Int32 msg, IntPtr wParam, IntPtr lParam, Boolean& handled)
   at MS.Win32.HwndWrapper.WndProc(IntPtr hwnd, Int32 msg, IntPtr wParam, IntPtr lParam, Boolean& handled)
   at MS.Win32.HwndSubclass.DispatcherCallbackOperation(Object o)
   at System.Windows.Threading.ExceptionWrapper.InternalRealCall(Delegate callback, Object args, Int32 numArgs)
   at System.Windows.Threading.ExceptionWrapper.TryCatchWhen(Object source, Delegate callback, Object args, Int32 numArgs, Delegate catchHandler)
   at System.Windows.Threading.Dispatcher.LegacyInvokeImpl(DispatcherPriority priority, TimeSpan timeout, Delegate method, Object args, Int32 numArgs)
   at MS.Win32.HwndSubclass.SubclassWndProc(IntPtr hwnd, Int32 msg, IntPtr wParam, IntPtr lParam)
   at MS.Win32.UnsafeNativeMethods.DispatchMessage(MSG& msg)
   at System.Windows.Threading.Dispatcher.PushFrameImpl(DispatcherFrame frame)
   at System.Windows.Threading.Dispatcher.PushFrame(DispatcherFrame frame)
   at System.Windows.Threading.DispatcherOperation.Wait(TimeSpan timeout)
   at System.Windows.Threading.Dispatcher.InvokeImpl(DispatcherOperation operation, CancellationToken cancellationToken, TimeSpan timeout)
   at System.Windows.Threading.Dispatcher.LegacyInvokeImpl(DispatcherPriority priority, TimeSpan timeout, Delegate method, Object args, Int32 numArgs)
   at Samba.Presentation.Services.Common.ExtensionMethods.PublishEvent[TEventSubject](TEventSubject eventArgs, String eventTopic, Boolean wait)
   at Samba.Presentation.Services.Implementations.AutomationModule.NotificationClient.<>c.<NotifyEvent>b__3_0(ActionData x)
   at Samba.Services.Implementations.AutomationModule.ActionDataBuilder.InvokeFor(Action`1 dataAction)
   at CallSite.Target(Closure , CallSite , Object , Action`1 )
   at Samba.Services.Implementations.AutomationModule.RuleExecutor.ExecuteWithoutLogging(Object dataParameter, Action`1 dataAction)
   at Samba.Services.Implementations.AutomationModule.RuleExecutor.ExecuteWith(Object dataParameter, Action`1 dataAction)
   at Samba.Services.Implementations.AutomationModule.NotificationService.NotifyEvent(String eventName, Object dataParameter, Int32 terminalId, Int32 departmentId, Int32 userRoleId, Int32 ticketTypeId, Action`1 dataAction)
   at Samba.Presentation.Services.Implementations.AutomationModule.NotificationClient.NotifyEvent(String eventName, Object dataObject)
   at CallSite.Target(Closure , CallSite , INotificationClient , String , Object )
   at Samba.Modules.PosModule.TicketViewModel.ExecuteAutomationCommand(String automationCommandName, String automationCommandValue, String nextCommandValue, Object dataObject, Boolean executeOnce, Boolean clearSelection)
   at Samba.Modules.PosModule.TicketViewModel.ExecuteAutomationCommand(AutomationCommand automationCommand, Object dataObject, String selectedValue, String nextValue)
   at Samba.Modules.PosModule.TicketViewModel.OnExecuteAutomationCommand(CommandContainerButton obj)
   at Microsoft.Practices.Prism.Commands.DelegateCommand`1.<>c__DisplayClass6.<.ctor>b__2(Object o)
   at Microsoft.Practices.Prism.Commands.DelegateCommandBase.Execute(Object parameter)
   at Microsoft.Practices.Prism.Commands.DelegateCommandBase.System.Windows.Input.ICommand.Execute(Object parameter)
   at MS.Internal.Commands.CommandHelpers.CriticalExecuteCommandSource(ICommandSource commandSource, Boolean userInitiated)
   at System.Windows.Controls.Primitives.ButtonBase.OnClick()
   at System.Windows.Controls.Primitives.ToggleButton.OnClick()
   at System.Windows.Controls.Primitives.ButtonBase.OnMouseLeftButtonUp(MouseButtonEventArgs e)
   at System.Windows.UIElement.OnMouseLeftButtonUpThunk(Object sender, MouseButtonEventArgs e)
   at System.Windows.Input.MouseButtonEventArgs.InvokeEventHandler(Delegate genericHandler, Object genericTarget)
   at System.Windows.RoutedEventArgs.InvokeHandler(Delegate handler, Object target)
   at System.Windows.RoutedEventHandlerInfo.InvokeHandler(Object target, RoutedEventArgs routedEventArgs)
   at System.Windows.EventRoute.InvokeHandlersImpl(Object source, RoutedEventArgs args, Boolean reRaised)
   at System.Windows.UIElement.ReRaiseEventAs(DependencyObject sender, RoutedEventArgs args, RoutedEvent newEvent)
   at System.Windows.UIElement.OnMouseUpThunk(Object sender, MouseButtonEventArgs e)
   at System.Windows.Input.MouseButtonEventArgs.InvokeEventHandler(Delegate genericHandler, Object genericTarget)
   at System.Windows.RoutedEventArgs.InvokeHandler(Delegate handler, Object target)
   at System.Windows.RoutedEventHandlerInfo.InvokeHandler(Object target, RoutedEventArgs routedEventArgs)
   at System.Windows.EventRoute.InvokeHandlersImpl(Object source, RoutedEventArgs args, Boolean reRaised)
   at System.Windows.UIElement.RaiseEventImpl(DependencyObject sender, RoutedEventArgs args)
   at System.Windows.UIElement.RaiseTrustedEvent(RoutedEventArgs args)
   at System.Windows.UIElement.RaiseEvent(RoutedEventArgs args, Boolean trusted)
   at System.Windows.Input.InputManager.ProcessStagingArea()
   at System.Windows.Input.InputManager.ProcessInput(InputEventArgs input)
   at System.Windows.Input.InputProviderSite.ReportInput(InputReport inputReport)
   at System.Windows.Interop.HwndMouseInputProvider.ReportInput(IntPtr hwnd, InputMode mode, Int32 timestamp, RawMouseActions actions, Int32 x, Int32 y, Int32 wheel)
   at System.Windows.Interop.HwndMouseInputProvider.FilterMessage(IntPtr hwnd, WindowMessage msg, IntPtr wParam, IntPtr lParam, Boolean& handled)
   at System.Windows.Interop.HwndSource.InputFilterMessage(IntPtr hwnd, Int32 msg, IntPtr wParam, IntPtr lParam, Boolean& handled)
   at MS.Win32.HwndWrapper.WndProc(IntPtr hwnd, Int32 msg, IntPtr wParam, IntPtr lParam, Boolean& handled)
   at MS.Win32.HwndSubclass.DispatcherCallbackOperation(Object o)
   at System.Windows.Threading.ExceptionWrapper.InternalRealCall(Delegate callback, Object args, Int32 numArgs)
   at System.Windows.Threading.ExceptionWrapper.TryCatchWhen(Object source, Delegate callback, Object args, Int32 numArgs, Delegate catchHandler)
   at System.Windows.Threading.Dispatcher.LegacyInvokeImpl(DispatcherPriority priority, TimeSpan timeout, Delegate method, Object args, Int32 numArgs)
   at MS.Win32.HwndSubclass.SubclassWndProc(IntPtr hwnd, Int32 msg, IntPtr wParam, IntPtr lParam)
   at MS.Win32.UnsafeNativeMethods.DispatchMessage(MSG& msg)
   at System.Windows.Threading.Dispatcher.PushFrameImpl(DispatcherFrame frame)
   at System.Windows.Threading.Dispatcher.PushFrame(DispatcherFrame frame)
   at System.Windows.Application.RunDispatcher(Object ignore)
   at System.Windows.Application.RunInternal(Window window)
   at System.Windows.Application.Run(Window window)
   at Samba.Presentation.App.Main()

Inner Exception 1
Type:        System.Reflection.TargetInvocationException
Message:     Exception has been thrown by the target of an invocation.
Source:      mscorlib
Stack Trace: at System.RuntimeMethodHandle.InvokeMethod(Object target, Object[] arguments, Signature sig, Boolean constructor)
   at System.Reflection.RuntimeMethodInfo.UnsafeInvokeInternal(Object obj, Object[] parameters, Object[] arguments)
   at System.Delegate.DynamicInvokeImpl(Object[] args)
   at System.Windows.Threading.ExceptionWrapper.InternalRealCall(Delegate callback, Object args, Int32 numArgs)
   at System.Windows.Threading.ExceptionWrapper.TryCatchWhen(Object source, Delegate callback, Object args, Int32 numArgs, Delegate catchHandler)
   at System.Windows.Threading.DispatcherOperation.InvokeImpl()
   at System.Windows.Threading.DispatcherOperation.InvokeInSecurityContext(Object state)
   at System.Threading.ExecutionContext.RunInternal(ExecutionContext executionContext, ContextCallback callback, Object state, Boolean preserveSyncCtx)
   at System.Threading.ExecutionContext.Run(ExecutionContext executionContext, ContextCallback callback, Object state, Boolean preserveSyncCtx)
   at System.Threading.ExecutionContext.Run(ExecutionContext executionContext, ContextCallback callback, Object state)
   at MS.Internal.CulturePreservingExecutionContext.Run(CulturePreservingExecutionContext executionContext, ContextCallback callback, Object state)
   at System.Windows.Threading.DispatcherOperation.Invoke()
   at System.Windows.Threading.Dispatcher.ProcessQueue()
   at System.Windows.Threading.Dispatcher.WndProcHook(IntPtr hwnd, Int32 msg, IntPtr wParam, IntPtr lParam, Boolean& handled)
   at MS.Win32.HwndWrapper.WndProc(IntPtr hwnd, Int32 msg, IntPtr wParam, IntPtr lParam, Boolean& handled)
   at MS.Win32.HwndSubclass.DispatcherCallbackOperation(Object o)
   at System.Windows.Threading.ExceptionWrapper.InternalRealCall(Delegate callback, Object args, Int32 numArgs)
   at System.Windows.Threading.ExceptionWrapper.TryCatchWhen(Object source, Delegate callback, Object args, Int32 numArgs, Delegate catchHandler)
   at System.Windows.Threading.Dispatcher.LegacyInvokeImpl(DispatcherPriority priority, TimeSpan timeout, Delegate method, Object args, Int32 numArgs)
   at MS.Win32.HwndSubclass.SubclassWndProc(IntPtr hwnd, Int32 msg, IntPtr wParam, IntPtr lParam)
   at MS.Win32.UnsafeNativeMethods.DispatchMessage(MSG& msg)
   at System.Windows.Threading.Dispatcher.PushFrameImpl(DispatcherFrame frame)
   at System.Windows.Threading.Dispatcher.PushFrame(DispatcherFrame frame)
   at System.Windows.Threading.DispatcherOperation.Wait(TimeSpan timeout)
   at System.Windows.Threading.Dispatcher.InvokeImpl(DispatcherOperation operation, CancellationToken cancellationToken, TimeSpan timeout)
   at System.Windows.Threading.Dispatcher.LegacyInvokeImpl(DispatcherPriority priority, TimeSpan timeout, Delegate method, Object args, Int32 numArgs)
   at Samba.Presentation.Services.Common.ExtensionMethods.PublishEvent[TEventSubject](TEventSubject eventArgs, String eventTopic, Boolean wait)
   at Samba.Modules.TicketModule.ActionProcessors.ExecuteTicketCommand.Process(ActionData actionData)
   at Samba.Services.Common.RuleActionTypeRegistry.ProcessAction(String actionType, ActionData actionData)
   at Samba.Services.Implementations.AutomationModule.AutomationService.ProcessAction(String actionType, ActionData actionData)
   at Samba.Modules.AutomationModule.AutomationModule.<OnInitialization>b__5_0(EventParameters`1 x)
   at Microsoft.Practices.Prism.Events.EventSubscription`1.InvokeAction(Action`1 action, TPayload argument)
   at Microsoft.Practices.Prism.Events.EventSubscription`1.<>c__DisplayClass2.<GetExecutionStrategy>b__0(Object[] arguments)
   at Microsoft.Practices.Prism.Events.EventBase.InternalPublish(Object[] arguments)
   at Microsoft.Practices.Prism.Events.CompositePresentationEvent`1.Publish(TPayload payload)
   at Samba.Presentation.Services.Common.ExtensionMethods.Publish[TEventsubject](TEventsubject eventArgs, String eventTopic, Action expectedAction)

Inner Exception 2
Type:        System.DivideByZeroException
Message:     Attempted to divide by zero.
Source:      mscorlib
Stack Trace: at System.Decimal.FCallDivide(Decimal& d1, Decimal& d2)
   at Samba.Domain.Models.Tickets.TaxValue.GetTaxAmount(Boolean taxIncluded, Decimal price, Decimal totalRate, Decimal plainSum, Decimal preTaxServices)
   at Samba.Domain.Models.Tickets.Order.<>c__DisplayClass191_0.<GetTotalTaxAmount>b__0(TaxValue x)
   at System.Linq.Enumerable.WhereSelectListIterator`2.MoveNext()
   at System.Linq.Enumerable.Sum(IEnumerable`1 source)
   at Samba.Domain.Models.Tickets.Order.GetTotalTaxAmount(Boolean taxIncluded, Decimal plainSum, Decimal preTaxServices)
   at Samba.Domain.Models.Tickets.Ticket.GetTaxExcludedSum(Order order)
   at Samba.Domain.Models.Tickets.Ticket.<Recalculate>b__206_2(Order x)
   at System.Linq.Enumerable.WhereSelectEnumerableIterator`2.MoveNext()
   at System.Linq.Enumerable.Sum(IEnumerable`1 source)
   at Samba.Domain.Models.Tickets.Ticket.Recalculate()
   at Samba.Presentation.Services.Implementations.TicketModule.TicketService.RecalculateTicket(Ticket ticket, Boolean forceRecalculation)
   at Samba.Modules.PosModule.TicketOrdersViewModel.CancelSelectedOrders()
   at Samba.Modules.PosModule.TicketViewModel.CancelItem()
   at Samba.Modules.PosModule.TicketViewModel.OnTicketEvent(EventParameters`1 obj)
   at Microsoft.Practices.Prism.Events.EventSubscription`1.InvokeAction(Action`1 action, TPayload argument)
   at Microsoft.Practices.Prism.Events.EventSubscription`1.<>c__DisplayClass2.<GetExecutionStrategy>b__0(Object[] arguments)
   at Microsoft.Practices.Prism.Events.EventBase.InternalPublish(Object[] arguments)
   at Microsoft.Practices.Prism.Events.CompositePresentationEvent`1.Publish(TPayload payload)
   at Samba.Presentation.Services.Common.ExtensionMethods.Publish[TEventsubject](TEventsubject eventArgs, String eventTopic, Action expectedAction)

-----------------------------

[Assembly Info]

mscorlib, Version=4.0.0.0
DevExpress.Xpf.LayoutControl.v14.1, Version=14.1.11.0
System.Xml, Version=4.0.0.0
DevExpress.Xpf.Grid.v14.1, Version=14.1.11.0
System, Version=4.0.0.0
DevExpress.Xpf.Grid.v14.1.Core, Version=14.1.11.0
WindowsBase, Version=4.0.0.0
System.Xaml, Version=4.0.0.0
Samba.Domain, Version=1.0.0.0
System.Core, Version=4.0.0.0
PresentationFramework, Version=4.0.0.0
Samba.Infrastructure, Version=1.0.0.0
Microsoft.Practices.Prism, Version=4.0.0.0
System.Runtime.Serialization, Version=4.0.0.0
Microsoft.Practices.Prism.MefExtensions, Version=4.0.0.0
System.ComponentModel.Composition, Version=4.0.0.0
PresentationCore, Version=4.0.0.0
DevExpress.Xpf.Core.v14.1, Version=14.1.11.0
Samba.Services, Version=1.0.0.0
Samba.Presentation.Services, Version=1.0.0.0
System.Windows.Forms, Version=4.0.0.0
System.Drawing, Version=4.0.0.0
Stateless, Version=1.0.0.0
Samba.Persistance, Version=1.0.0.0
PropertyTools, Version=2012.4.14.1
Samba.Localization, Version=1.0.0.0
ReachFramework, Version=4.0.0.0
Samba.Infrastructure.Data, Version=1.0.0.0
EntityFramework, Version=6.0.0.0
FluentValidation, Version=3.4.0.0
Omu.ValueInjecter, Version=2.3.0.0
Microsoft.Practices.ServiceLocation, Version=1.0.0.0
Microsoft.CSharp, Version=4.0.0.0

-----------------------------

[System Info]

Operating System
-Microsoft Windows 10 Pro
--CodeSet = 1252
--CSDVersion = 
--CurrentTimeZone = 0
--FreePhysicalMemory = 8561668
--OSArchitecture = 64-bit
--OSLanguage = 1033
--ServicePackMajorVersion = 0
--ServicePackMinorVersion = 0
--Version = 10.0.16299

Machine
-EPOS-SERVER
--Manufacturer = Dell Inc.
--Model = OptiPlex 990
--TotalPhysicalMemory = 12760047616
--UserName = EPOS-SERVER\EPOS

-----------------------------