I recall seeing a post about grouping order tags by prefix on the ticket screen. I can't for the life of me find it; my google-fu has failed.
In this case I'd like to group the tags by prefixes: No, Left, Right, Half, Whole.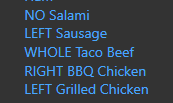 If one could point me in the right direction I'd most appreciate it.
TIA