Hi Friends
The last days my staff did incredible high tip" when they payout the reported (settled) revenue. Up to 30% of the collected money seams to "be over", Example, POS reported end of shift (work report) 6 Mio Revenue but they had 9 Mio in the wallets.
(My staff work by wifi - with 3 Acer PADs, Windows 8, using Samba V5.160)
So I checked the ticket by numbers (logged in as admin, show all tickets, by date and number) and YES MANY MANY ticket numbers are NOT LISTED and NOT REPORTED in the WORK REPORT, however they have orders and where PAID!
When I pick up each single ticket number I can find them, but they not "counted"

And the ticket looks "normal" I dont see any special issue!
Here you can see the workreport only sum up all listed ticktes to 6.014 mio

But if I manually list all not displayed tickets and calculate, them I sum up exactly to the real total (9.129) and my staff had no tip at all, poor them…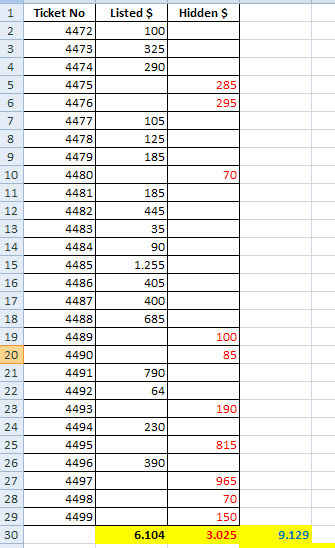 That means, if my staff would not have been so honest, I would have LOST 30% of my revenue!
And the day before, I had the same issue!! 5 ticket not displayed/counted, with around a total value of 1.5 mio (75$)
So WHY Samba not count these tickets ??
WHY?? Please help! Thats quit scary!!