So starting to extend here (oh no I hear…). I going to implement multiple Entities to apply multiple accounts and accounting. below is the Entities so far:
I have implemented the basic Entity screens and applied the bits to get Entity Button Captions like below:

The setup is using the Work Flow State = New Orders as shown below with some comments and wishs: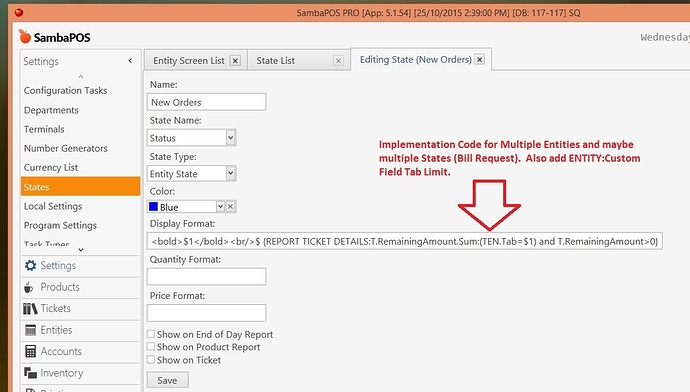 Direction Required:
Question 1. I would like to only use the original state "New Orders" but have the Display Format apply to all Entities OR a nominated list i.e Customers; Pagers; Tables; Tabs - which currently is all!? Do I need to implement *some sort of script and call it with passing the Entity Name?
Question 2. I would like to also use a Custom Data field say "Credit Limit" on some of the Entities. Can the syntax be expanded to contain references to:
ENTITY DATA:Tabs:Credit Limit - T.RemainingAmount
Note above: Entity Type = Tabs but Name is Tab
Of course this may also need to go to script as well because the Caption State will be used for all Entities?
Also if the Entity does not have the Custom Field - why SambaPOS break or ignore like in many cases?
Any guidance, examples or comments is greatly appreciated - thanks.
Oh better supply my references: