I recently implemented this feature on my POS and would like to share it with you guys that might find it useful.
In this example I will guide you on how to create a Discount Voucher which you print through SambaPOS via a Automation Command. You can also have these vouchers print automatically when a certain amount is spent.
Create a Bitmap Image with your Discount Offer, for this example I created a 10% Discount on Entire Bill. See attached Image:


Either place this in a directory, i.e C:\ or load this into your printer memory.

Create a Automation Command as shown below and add default mapping. (I choose to map this to admin users only)


Create a new Printer Template as shown below:

I used <XCT> commands as my logo and voucher images are loaded into the printers memory. If you are keeping your files on your local drive, replace these with <BMP> command and directory location i.e
<BMP>c:\logo.bmp

<BMP>c:\voucher.bmp

5 Create a new Print Job as shown below:

6 Create a new Action as shown below: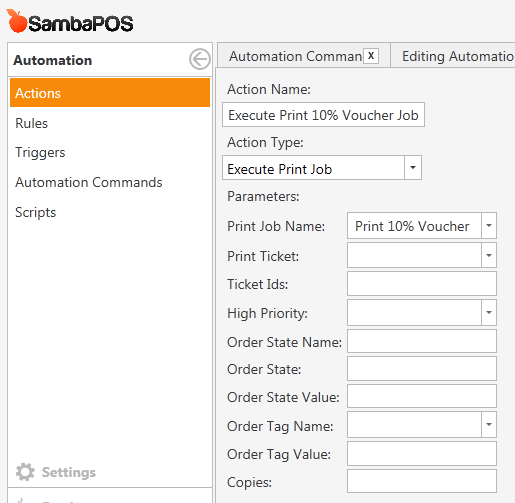 7 Create a new Rule as shown below: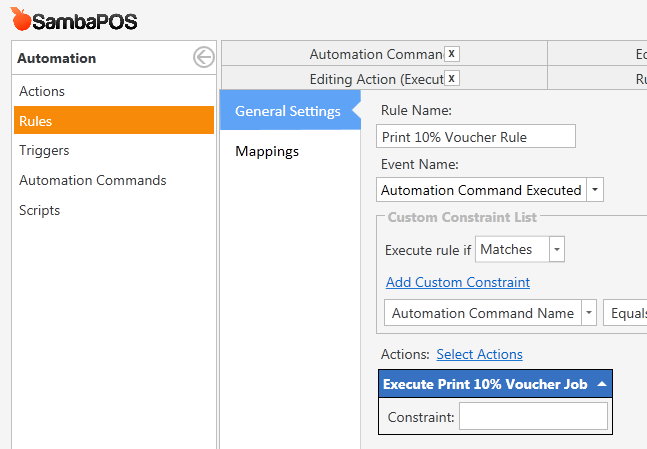 You will now see a 10% Voucher Button on your POS Screen:

You can then hand these vouchers out to your customers:

You can then create a New Rule and set this voucher to print automatically if a certain spend is reached, i.e: If spend is over £19.99 then print 10% Voucher once the bill has been settled.
Enjoy…