Try converting image resolution to 72 dpi.
The image output from NVRAM on my 88V certainly looks like smooth greyscale - no visible dots… the science behind how it achieves this I don't know, but it looks great.
I have a color image and a B&W (greyscale) image sitting in my archive. I don't remember which one I uploaded to the printer, but the name of color one is specifically tagged as RECEIPT, while the BW is not.
It is also named with these characteristics: logo_2.65x2_300dpi_RECEIPT.png
The BW is named as such: logo_BW_510.png, and it's dimensions are noticeably smaller than the color version, likely less dpi.
Id be surprised if the printer itself converted the image from colour but thats there newset model isnt it?
In case anyone was wondering how this turned out… I was finally able to get a solid product. For some older printers on a serial connection the logo method produced a great quality image without much adjustment to the actual image, however it would take to long to print the ticket… nearly 12 seconds. So, for anyone else working with Ithaca brand iTherm printers this is what I came up with.
(I wanted to post this for anyone else with these printers wanting an image on their ticket)
Again this is for Ithaca iTherm printers (I have iTherm280)
Download…
PJ Color http://www.transact-tech.com/drivers/ithaca-280
Image Prep
Resize image hopefully its a vector image to max dpi 203 and size it a little larger than the size you actually want. My turned out to be 260 x 198. (you may need to play with this)
2.Download and open PJColor and set your comm port, emulation, and resolution.
**if your windows printer driver is installed to this printer temporarily change that printer properties to a different comm port as the program needs it open to communicate with the printer
Load the image to the printer, select high resolution, center image, view the preview, do a test print "send to printer", click store in printer, change name to Logo, and click record.
Change the settings back on the printer windows driver to the right comm port.
Open SambaPOS, go to your printer template.
The code to make this print on your receipt is from their programmers manual it is &%URLogo&
*if you named the image something else when recording it change the word logo to the name.
And there you go. Print away… Here is my result.
This printer does not do a very good job with grey-scale. There are dithering or diffusion dots throughout and it looks terrible. I ended up converting my logo to pure black and white for a good result. It prints sufficiently fast.
Hello,
How did you did that ? Where is the source ? the path of the logo ?
Thanks.
The NVRAM is inside the printer, check in the drivers, there should be a Logo Flash Utility.
What printer is it?
Hello,
It's Epson TM-T20 II, and I found where in the printer utility. It prints from windows. But I can not print from Sambapos. I don't know how to implement it to print into the the BILL/Ticket.
Thanks
There will be a command code just like the kick drawer code. If you save the image in the printer you need tonknow what the code is to put it in your template where you want it to print. I use this setup for my logo so i have the drawer kick code at the top of my template so the drawer opens as the receipt print and i have the image code next so that it prints at the top of the receipt
When you save the image in the printer its usually assigned a four digit code like 48 48 or whatever you saved it as. You need those four digits and the rest of the command code, i googled it for the code and format of where to put the four digit code. If i get chance later and i can get on ill post a screenshot of my code for the logo
Here are a list of commands for TM20.
https://reference.epson-biz.com/modules/ref_escpos/index.php?content_id=79
Ones relating to logo;
FS ( E <fn=60>Cancel set values for top/bottom logo printing
FS ( E <fn=61>Transmit set values for top/bottom logo printing
FS ( E <fn=62>Set top logo printing
FS ( E <fn=63>Set bottom logo printing
FS ( E <fn=64>Make extended settings for top/bottom logo printing
FS ( E <fn=65>Enable/disable top/bottom logo printing

The bit im not so familier with is I think you need to convert these codes to HEX?!? Rick or Emre might confirm that
EDIT
Looking at the tec ref guide;
http://tbwsupport.com/epson/tm-t20_eng_trg_revb_01.pdf
It look like unlike other models where you place the logo in position with a code you set top or bottom logo with the code.
Also suggests you can set auto top or auto bottom logo within the utility/driver.
You want the numbers to be in Decimal.
To print the logo stored at Keycode location 32,32 (default) on an Epson TM-T20II … place this XCT tag and code string in your printer template at the location where you want the logo to appear (i.e. at the top, after [LAYOUT])
<XCT>29,40,76,6,0,48,69,32,32,1,1

Thanks guys, and I don't know what I will do without you.

It's on top now, but it's not aligned, centered. I think that is from the printer's software.
I will find a way

Thanks.
You should be able to store it centered using the printer software.
You could also try using the Enable Center printer tag:
[LAYOUT]
<EC>
<XCT>29,40,76,6,0,48,69,32,32,1,1
<EL>

Hey,
Yes, it worked with that. Thanks.
@QMcKay Could you please help me with my printer?
It is a generic Chinese POS 58mm printer. I used a tool to store logo into printer and it prints when I use that tool. (It also prints when I use <BMP>, but I want to see if this is faster.
This is the info from my printer manual. How do I figure out the <XCT> code?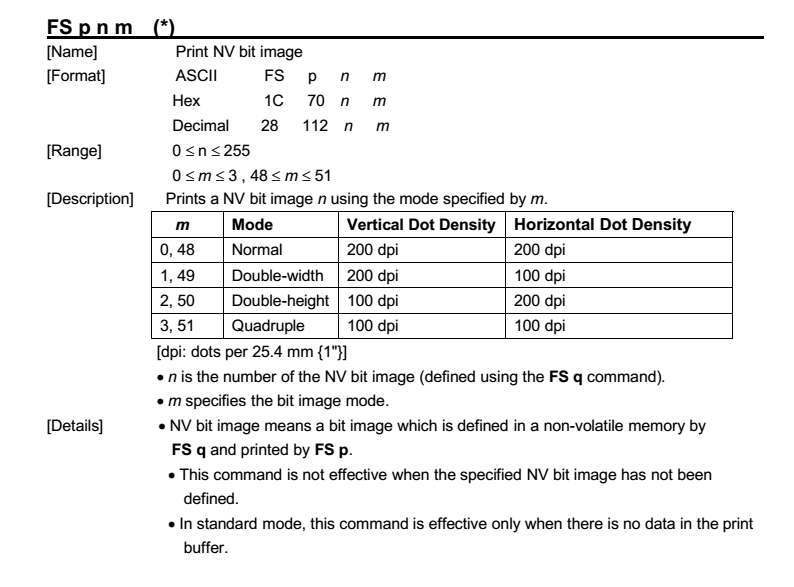 I want to print it in normal mode
Highlight your post and press < / > button.
You will need something like this:
<XCT>28,112,n,0,48

You need to specify the value for n. As per your documentation, n is the number of the NV bit image. You printer software should allow you to set this number, and in the above command, replace n with that number.
Have you loaded the logo into the printer?
Im not sure is those budget 58mm printers support nvram logos - not saying they don't mide.
Have you got a toll to load a logo in the driver?
It worked!

Thank You!
I had to make a minor correction.
I had to use
<XCT>28,112,0,48

It seems like n has no effect on my printer.

Yes, this printer had the feature to load NVLogo using a utility. I did that over USB. Printing is via Bluetooth.
Logo printing took a little bit of time, which has now gone. Almost instant.