Good day guys, am facing difficult trying to get an accurate table report. My client wants to see the revenue for all the tables in the lounge. eg.
Table 1 = 30000
Table 2= 50000
but after reading through all table topics i was able to create a table report but the tables keep surfacing and repeating it self. here is the image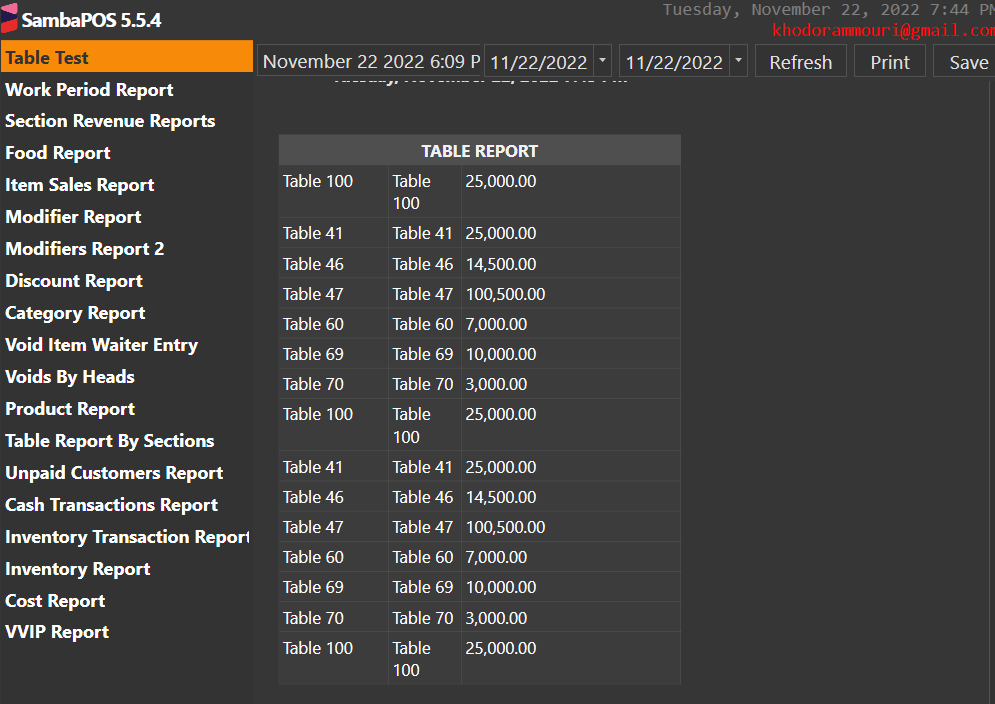 please i need help i have tried to fix it my self but know solution.
thanks you
here is my code aswell
[TABLE REPORT:3,2,2,2,2]
{REPORT TICKET DETAILS:EN.Table,EN.Table.asc,T.TotalAmount.sum:(TENC.Table=Table 1)}
{REPORT TICKET DETAILS:EN.Table,EN.Table.asc,T.TotalAmount.sum:(TENC.Table=Table 2)}
{REPORT TICKET DETAILS:EN.Table,EN.Table.asc,T.TotalAmount.sum:(TENC.Table=Table 3)}
{REPORT TICKET DETAILS:EN.Table,EN.Table.asc,T.TotalAmount.sum:(TENC.Table=Table 4)}
{REPORT TICKET DETAILS:EN.Table,EN.Table.asc,T.TotalAmount.sum:(TENC.Table=Table 5)}
{REPORT TICKET DETAILS:EN.Table,EN.Table.asc,T.TotalAmount.sum:(TENC.Table=Table 6)}
{REPORT TICKET DETAILS:EN.Table,EN.Table.asc,T.TotalAmount.sum:(TENC.Table=Table 7)}
{REPORT TICKET DETAILS:EN.Table,EN.Table.asc,T.TotalAmount.sum:(TENC.Table=Table 8)}
{REPORT TICKET DETAILS:EN.Table,EN.Table.asc,T.TotalAmount.sum:(TENC.Table=Table 9)}
{REPORT TICKET DETAILS:EN.Table,EN.Table.asc,T.TotalAmount.sum:(TENC.Table=Table 10)}
{REPORT TICKET DETAILS:EN.Table,EN.Table.asc,T.TotalAmount.sum:(TENC.Table=Table 11)}
{REPORT TICKET DETAILS:EN.Table,EN.Table.asc,T.TotalAmount.sum:(TENC.Table=Table 12)}
{REPORT TICKET DETAILS:EN.Table,EN.Table.asc,T.TotalAmount.sum:(TENC.Table=Table 14)}
{REPORT TICKET DETAILS:EN.Table,EN.Table.asc,T.TotalAmount.sum:(TENC.Table=Table 15)}
{REPORT TICKET DETAILS:EN.Table,EN.Table.asc,T.TotalAmount.sum:(TENC.Table=Table 16)}
{REPORT TICKET DETAILS:EN.Table,EN.Table.asc,T.TotalAmount.sum:(TENC.Table=Table 17)}
{REPORT TICKET DETAILS:EN.Table,EN.Table.asc,T.TotalAmount.sum:(TENC.Table=Table 18)}
{REPORT TICKET DETAILS:EN.Table,EN.Table.asc,T.TotalAmount.sum:(TENC.Table=Table 19)}
{REPORT TICKET DETAILS:EN.Table,EN.Table.asc,T.TotalAmount.sum:(TENC.Table=Table 20)}
{REPORT TICKET DETAILS:EN.Table,EN.Table.asc,T.TotalAmount.sum:(TENC.Table=Table 21)}
{REPORT TICKET DETAILS:EN.Table,EN.Table.asc,T.TotalAmount.sum:(TENC.Table=Table 22)}
{REPORT TICKET DETAILS:EN.Table,EN.Table.asc,T.TotalAmount.sum:(TENC.Table=Table 30)}
{REPORT TICKET DETAILS:EN.Table,EN.Table.asc,T.TotalAmount.sum:(TENC.Table=Table 31)}
{REPORT TICKET DETAILS:EN.Table,EN.Table.asc,T.TotalAmount.sum:(TENC.Table=Table 32)}
{REPORT TICKET DETAILS:EN.Table,EN.Table.asc,T.TotalAmount.sum:(TENC.Table=Table 33)}
{REPORT TICKET DETAILS:EN.Table,EN.Table.asc,T.TotalAmount.sum:(TENC.Table=Table 34)}
{REPORT TICKET DETAILS:EN.Table,EN.Table.asc,T.TotalAmount.sum:(TENC.Table=Table 35)}
{REPORT TICKET DETAILS:EN.Table,EN.Table.asc,T.TotalAmount.sum:(TENC.Table=Table 36)}
{REPORT TICKET DETAILS:EN.Table,EN.Table.asc,T.TotalAmount.sum:(TENC.Table=Table 37)}
{REPORT TICKET DETAILS:EN.Table,EN.Table.asc,T.TotalAmount.sum:(TENC.Table=Table 38)}
{REPORT TICKET DETAILS:EN.Table,EN.Table.asc,T.TotalAmount.sum:(TENC.Table=Table 39)}
{REPORT TICKET DETAILS:EN.Table,EN.Table.asc,T.TotalAmount.sum:(TENC.Table=Table 40)}
{REPORT TICKET DETAILS:EN.Table,EN.Table.asc,T.TotalAmount.sum:(TENC.Table=Table 41)}
{REPORT TICKET DETAILS:EN.Table,EN.Table.asc,T.TotalAmount.sum:(TENC.Table=Table 45)}
{REPORT TICKET DETAILS:EN.Table,EN.Table.asc,T.TotalAmount.sum:(TENC.Table=Table 46)}
{REPORT TICKET DETAILS:EN.Table,EN.Table.asc,T.TotalAmount.sum:(TENC.Table=Table 47)}
{REPORT TICKET DETAILS:EN.Table,EN.Table.asc,T.TotalAmount.sum:(TENC.Table=Table 50)}
{REPORT TICKET DETAILS:EN.Table,EN.Table.asc,T.TotalAmount.sum:(TENC.Table=Table 51)}
{REPORT TICKET DETAILS:EN.Table,EN.Table.asc,T.TotalAmount.sum:(TENC.Table=Table 52)}
{REPORT TICKET DETAILS:EN.Table,EN.Table.asc,T.TotalAmount.sum:(TENC.Table=Table 53)}
{REPORT TICKET DETAILS:EN.Table,EN.Table.asc,T.TotalAmount.sum:(TENC.Table=Table 54)}
{REPORT TICKET DETAILS:EN.Table,EN.Table.asc,T.TotalAmount.sum:(TENC.Table=Table 55)}
{REPORT TICKET DETAILS:EN.Table,EN.Table.asc,T.TotalAmount.sum:(TENC.Table=Table 60)}
{REPORT TICKET DETAILS:EN.Table,EN.Table.asc,T.TotalAmount.sum:(TENC.Table=Table 61)}
{REPORT TICKET DETAILS:EN.Table,EN.Table.asc,T.TotalAmount.sum:(TENC.Table=Table 62)}
{REPORT TICKET DETAILS:EN.Table,EN.Table.asc,T.TotalAmount.sum:(TENC.Table=Table 63)}
{REPORT TICKET DETAILS:EN.Table,EN.Table.asc,T.TotalAmount.sum:(TENC.Table=Table 64)}
{REPORT TICKET DETAILS:EN.Table,EN.Table.asc,T.TotalAmount.sum:(TENC.Table=Table 65)}
{REPORT TICKET DETAILS:EN.Table,EN.Table.asc,T.TotalAmount.sum:(TENC.Table=Table 66)}
{REPORT TICKET DETAILS:EN.Table,EN.Table.asc,T.TotalAmount.sum:(TENC.Table=Table 67)}
{REPORT TICKET DETAILS:EN.Table,EN.Table.asc,T.TotalAmount.sum:(TENC.Table=Table 68)}
{REPORT TICKET DETAILS:EN.Table,EN.Table.asc,T.TotalAmount.sum:(TENC.Table=Table 69)}
{REPORT TICKET DETAILS:EN.Table,EN.Table.asc,T.TotalAmount.sum:(TENC.Table=Table 70)}
{REPORT TICKET DETAILS:EN.Table,EN.Table.asc,T.TotalAmount.sum:(TENC.Table=Table 71)}
{REPORT TICKET DETAILS:EN.Table,EN.Table.asc,T.TotalAmount.sum:(TENC.Table=Table 72)}
{REPORT TICKET DETAILS:EN.Table,EN.Table.asc,T.TotalAmount.sum:(TENC.Table=Table 73)}
{REPORT TICKET DETAILS:EN.Table,EN.Table.asc,T.TotalAmount.sum:(TENC.Table=Table 74)}
{REPORT TICKET DETAILS:EN.Table,EN.Table.asc,T.TotalAmount.sum:(TENC.Table=Table 75)}
{REPORT TICKET DETAILS:EN.Table,EN.Table.asc,T.TotalAmount.sum:(TENC.Table=Table 76)}
{REPORT TICKET DETAILS:EN.Table,EN.Table.asc,T.TotalAmount.sum:(TENC.Table=Table 77)}
{REPORT TICKET DETAILS:EN.Table,EN.Table.asc,T.TotalAmount.sum:(TENC.Table=Table 78)}
{REPORT TICKET DETAILS:EN.Table,EN.Table.asc,T.TotalAmount.sum:(TENC.Table=Table 79)}
{REPORT TICKET DETAILS:EN.Table,EN.Table.asc,T.TotalAmount.sum:(TENC.Table=Table 80)}
{REPORT TICKET DETAILS:EN.Table,EN.Table.asc,T.TotalAmount.sum:(TENC.Table=Table 100)}
{REPORT TICKET DETAILS:EN.Table,EN.Table.asc,T.TotalAmount.sum:(TENC.Table=Table 101)}
{REPORT TICKET DETAILS:EN.Table,EN.Table.asc,T.TotalAmount.sum:(TENC.Table=Table 102)}
{REPORT TICKET DETAILS:EN.Table,EN.Table.asc,T.TotalAmount.sum:(TENC.Table=Table 103)}
{REPORT TICKET DETAILS:EN.Table,EN.Table.asc,T.TotalAmount.sum:(TENC.Table=Table 104)}
{REPORT TICKET DETAILS:EN.Table,EN.Table.asc,T.TotalAmount.sum:(TENC.Table=Table 105)}`