Hi everybody,
When I display a closed ticket, I can see Paid as the status of the ticket.
I was expected IsClosed.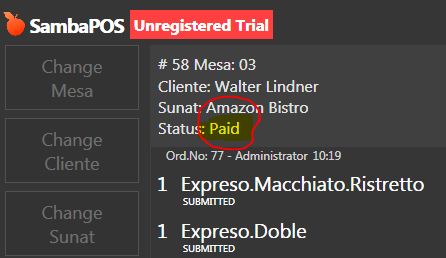 Marc
Actually it is part of a more general question, I'd like to be able to make 2 small actions on a closed ticket, actions that do not affect nor the inventory/sales, nor the payment.
The action are related to a re-print of a ticket with corrected information, in my case:
"consumo" which is a ticket Tag. (it prints "food and dink" instead of detailled orders on the ticket)
"Sunat" which is an entity containing the customer's company information. (used to justify company cost for tax purpouse)
Both might have been entered incorretly by the waiter (quite often actually).
So a re-print of the ticket (a copy) with the corrected information would do and so avoiding the whole process of annulation+new ticket which creates troubles, mainly work period dependant.
Now, nor Ticket Tag, nor entity can be changed when ticket is Paid/Isclosed.
Re-open Ticket is dangerous (especially in an old work period) because it gives the waitress too many ticket change options.
Is there an easy way to do it?