Can you add me to beta group please ? for french translate
Your in beta group already.
Sorry, I added the account

hi went tough the post and didnt see any request for dutch language is it also gonna be in the new version or do i need to ask for it it first (allready helped in translating and voting for the translations that where allready done) if so i would like the support of the dutch language for next version if possible also if needed i woudnt mind to help with beta

.
edit: just noticed Dutch language is supported now
and i also see that all who helps get license and can join beta how do I get those as I helped with the Dutch language?
hi i'm so interested how can I download the beta mode I am interested in the Spanish Language ( Bolivia, Spain Argentina, Mexico) all those countries have the same language I dont know why there are different translation for the same language
All those languages already exist in the latest release 5.1.62 - you can download from here: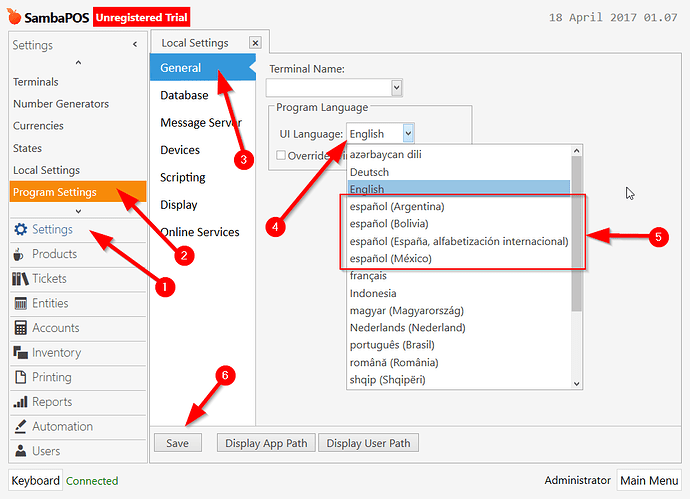 I would imagine even those languages are similar, there might be some regional variations on the way certain terms are used. Not speaking Spanish I wouldn't know myself, but that's usually the reason multiple variants of a language exist.
thank you for your promo response have a good day
You are using an English database. Look in the Manage section, probably most of that is translated.
To get a Spanish database, you need to set the language to Spanish then create a new database. You should then get a sample database created that will be in Spanish.
If you want to keep your existing database, you will need to update the names of most of the Automation Commands yourself, plus other things.
However I am surprised the main menu isn't translated… Which language did you select? According to CrowdIn, the 4 Spanish languages are showing as translated 91-92%.
I tried with the 4 Spanish Languages with the same result,unistall samba and install this new version could fix those issues?
What version are you currently using?
(double click SambaPOS logo in top left, it will switch to a window and you can see version number in title bar)
How to add Georgian?I want to translate
Id also like to add persian language and contribute to it as theres big potential in iran right now
I added Georgian and Persian languages. @Shivan I have V3 translations but I'm not sure if it is an accurate translation or not. Should I upload V3 translations on top of it or will you prefer to start from scratch?
Also I can upload Google Translate translations on top of both if you think it will help.
Im pretty sure it should be fine if we use the v3 ontop of some google translate. Then i can cross match definitions with someone fluent in persian language and he can suggest some changes or if im directed to a place where i can make some changes then i can so them to save you time
I translated all strings with google translate and uploaded them. I hope that helps. If you let me know your crowdin account name I'll update your account permissions to allow overwriting translations.
PS: Unfortunately V3 had too few translations so I just ignored them.
Ok sweet. That's fine. Username is: Shivank
Just a quick question regarding persian translation. For reporting side of things is it better to keep the numbers in english or we should also change them into desired language